MICHAEL K. SCHUESSLER
Podomatic + iTunes + Transcript
(APPROX 1 HOUR AND 7 MINUTES)



A conversation with the author of the biographies Guadalupe Amor: La undécima musa (The Eleventh Muse) and Elena Poniatowska: An Intimate Portrait, Schuessler is also the editor of journalist Alma Reed's long-lost autobiography, Peregrina: Love and Death in Mexico and, most recently, co-editor (with Amparo Gómez), of the correspondence between Reed and her fiancé, Yucatan's charismatic first democratically elected governor, Felipe Carrillo Puerto, Tuyo hasta que me muera (Yours Until Death).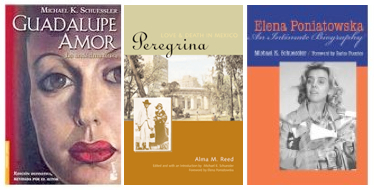 Michael K. Schuessler on Mexico's incomparable poet Guadalupe (Pita) Amor; her neice, Mexico's acclaimed novelist and journalist Elena Poniatowska; the baroque literary prodigy Sor Juana Inés de la Cruz; and the great friend of Mexico, the adventurous and passionate journalist Alma Reed, whose autobiography—a work vital to early 20th century Yucatecan history— Schuessler rescued from an abandoned closet. Recorded in Mexico City on March 8, 2012. (Approx 1 hour and 7 minutes)


Your COMMENTS are always welcome.


www.michaelkschuessler.com.mx