Apropos of a book-in-progress,
World Waiting for a Dream: A Turn in Far West Texas
Listen in anytime— better yet, sign up now for the free newsletter.

John Tutino: Looking at Mexico In New Ways

12: Dallas Baxter: This Precious Place

11: Cowboy Songs by Cowboys

10: A Visit to Swan House

9: Mary Baxter, Painting the Big Bend

8: A Spell in Chinati Hot Springs

7: We Have Seen the Lights

6: Marfa's Moonlight Gemstones

5: Cynthia McAlister with the Buzz on the Bees

4: Avram Dumitrescu, an Artist in Alpine

3: Mary Bones on the Lost Art Colony

2: Charles Angell in the Big Bend

1: Introduction and Welcome
Twitter: @marfamondays

MORE ABOUT FAR WEST TEXAS:
A Visit to Swan House
Presidio Texas' unique adobe teaching house inspired by the legacy of the great Egyptian architect, Hassan Fathy
From Cenizo Journal.

Q U I C K LINKS

YE OLDE MAIN BLOG:
Madam Mayo
Cyberflanerie, books, rare books, Mexico, literary translation & etc.
.
NEW! In a blend of personal essay and a rendition of deeply researched metaphysical and Mexican history that reads like a novel, award-winning writer and noted literary translator C.M. Mayo provides a rich introduction and the first English translation of Spiritist Manual, the secret book by Francisco I. Madero, leader of Mexico's 1910 Revolution and President of Mexico, 1911-1913... READ MORE
.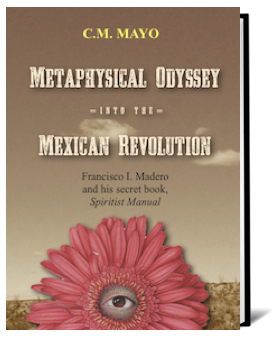 THE NOVEL: The Last Prince of the Mexican Empire
Kindle, paperback, hardcover and in Spanish
The novel based on the strange but true story of the half-American grandson of Agustín de Iturbide in the Court of Maximilian. A Library Journal Best Book 2009
.

TRAVEL MEMOIR: Miraculous Air: Journey of a Thousand Miles through Baja California, the Other Mexico
Now on Kindle! "Rich with its own evocative descriptions of the peninsula's raw beauty... Her journey of 1,000 miles is a trip worth taking." San Diego Union-Tribune
.

TRANSLATIONS: Mexico: A Traveler's Literary Companion
Hear a country speak! 24 Mexican writers on Mexico, edited by C.M. Mayo. Many translated into English for the first time.
.

BOOK REVIEW: Sarah Cortez and Sergio Troncoso's OUR LOST BORDER: ESSAYS ON LIFE AMID THE NARCO-VIOLENCE
Lurid television, newspaper stories, and cliché-ridden movies about Mexico abound in English; rare is any writing that plumbs to meaningful depths or attempts to explore its complexities. READ MORE
.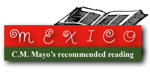 Recommended reading on Mexico
A list for those discovering Mexico for the first time, and for those who know it muy bien.
.

Podcasting for Writers & Other Creative Entrepreneurs
Kindle and iBook.
Ever wondered how this works? Get the 10 easy peasy steps to start podcasting now! Based on C.M. Mayo's one day workshop for the Writer's Center.
.

INTERVIEW: Lisa Carter's Intralingo blog puts the spotlight on C.M. Mayo
On getting started in literary translation, translating Mexican writers Agustín Cadena and Mónica Lavín, and tackling the translation of Francisco I. Madero's secret book of 1911.
.