Q U I C K LINKS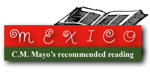 Recommended reading on Mexico: A list for those discovering Mexico for the first time, and for those who know it muy bien.

Ye Olde Main Blog Cyberflanerie, books, pugs, bees, Mexico, literary translation, squirrel haberdashery & other digital whatnot & profundities & predictions & photos, too

The Last Prince of the Mexican Empire
The novel based on the strange but true story of the half-American grandson of Agustín de Iturbide in the Court of Maximilian. A Library Journal Best Book 2009

Miraculous Air: Journey of a Thousand Miles through Baja California, the Other Mexico
Now on Kindle! "..rich with its own evocative descriptions of the peninsula's raw beauty... Her journey of 1,000 miles is a trip worth taking." San Diego Union-Tribune

Mexico: A Traveler's Literary Companion
Hear a country speak! 24 Mexican writers on Mexico, edited by C.M. Mayo. Many translated into English for the first time.

Larry Matthews podcast interview with C.M. Mayo
Radio veteran and author-podcaster Larry Matthews talks with C.M. Mayo about the strange and surprisingly Washingtonian story of The Last Prince of the Mexican Empire, and the Marfa Mondays podcasts, and far (far) West Texas. Posted April 13, 2013.

Interview with C.M. Mayo by Jon Winokur
Like the website says, advice to writers. Posted April 23, 2013.
Review of Rubén Martínez's Desert America for the Washington Independent Review of Books


What is the West? That cross-borderly mashup of music, footwear and haberdashery known as "cowboy cool"? Or is it indigenous? The Big Empty, healing refuge, Hispano, Chicano, Mexicano?. . .

Podcasting for Writers & Other Creative Entrepreneurs
Ever wondered how this works? Get the 10 easy peasy steps to start podcasting now! Based on C.M. Mayo's one day workshop for the Writer's Center.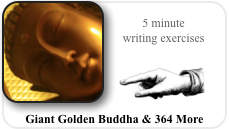 Lisa Carter's Intralingo blog puts the spotlight on C.M. Mayo
On getting started in literary translation, translating Mexican writers Agustín Cadena and Mónica Lavín, and tackling the translation of Francisco I. Madero's secret book of 1911.

Spiritist Manual: The Secret Book of 1911 by the Leader of Mexico's 1910 Revolution
Translated and introduced by C.M. Mayo. First edition published in Kindle November 2011; second edition forthcoming this summer 2013 in Kindle, paperback, and in Spanish.