RECENT EVENTS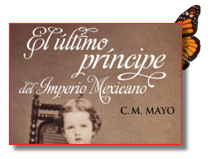 July 15, 2014 Palacio Nacional, Mexico City
(in Spanish) Presentation and discussion of the novel El último príncipe del Imperio Mexicano (the translation by Agustín Cadena of C.M. Mayo's The Last Prince of the Mexican Empire)
5 pm.
Salón de homenajes del Recinto a Juárez de Palacio Nacional.
Free and open to the public.
This event is part of the conference on the historical novel.

haga clic para mayor información





February 27, 2014 Seattle WA


Panel Discussion
"Homesteading on the Digital Frontier: Writers Blogs"
Associated Writing Programs Conference
Room 615/616/617 Washington State Convention Center, Level 6
4:30 pm - 5:45 pm
Writers present strategies on how to start a blog, where to get material, how to publicize a blog and add readers and followers, and how to sustain it over time. Other topics: Is blogging a new genre of literature? Why do blogs matter? To monetize, or not to monetize? What are SEO and tagging, and how do you use them? How do analytics help increase readership? How can blogging improve book sales and reading attendance? Should you react to events or pick your own blog topics?
Zack Rogow, Moderator
Zack Rogow is the author, editor, or translator of nineteen books or plays. His seventh book of poems, My Mother and the Ceiling Dancers, was published by Kattywompus Press. Currently he teaches in the low-residency MFA in writing program at the University of Alaska Anchorage.

Mark Doty
Mark Doty's eight books of poems have received the National Book Award and the National Book Critics Circle Award. He's also the author of four books of nonfiction prose and a handbook for writers. A new book of poems, Deep Lane, is forthcoming. He teaches at Rutgers University in New Brunswick, New Jersey.

C.M. Mayo
C.M. Mayo's books include the novel The Last Prince of the Mexican Empire; Miraculous Air: Journey of 1000 Miles through Baja California, the Other Mexico; and Sky Over El Nido, which won the Flannery O'Connor Award. One of the pioneers of lit-blogging, her blog is "Madam Mayo." www.cmmayo.com

Get the Newsletter
For the latest podcasts (Marfa Mondays, Conversations with Other Writers, and more), upcoming events and workshops, and new books, get the free newsletter via mailchimp, a leading e-mail list management service. I value your privacy and I do not share your email with anyone. Opt in or opt out automatically at any time.