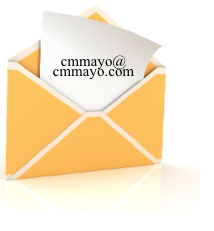 Twitter
@cmmayo1

Book Club?
I am sincerely honored when a book club selects one of my books
for reading and discussion.


Your questions answered.

Where can I find your books?

Right here.




Regarding Rights / Literary Agent
My agent, Christina Ward, The Ward & Balkin Agency, Inc. has recently passed away. Until further notice, best to get in touch with me directly.


Media and Speaking Inquiries
To request an interview or event, click here.

Press Kit
Bio, blurbs, interviews, high res photos, book covers, and more.


Writerly Queries


My Answers to the 3 Questions I Am Most Often Asked About the Writing Business

Oodles more Resources for Writers over on my webpage for Creative Writers.