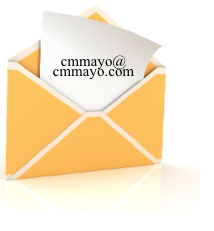 Click on the envelope to send me an email.

Twitter
@cmmayo1

Book Club?
I am sincerely honored when a book club selects one of my books
for reading and discussion.


Your questions answered.

Where can I find your books?




Right here.



Writerly Queries
My Answers to the 3 Questions I Am Most Often Asked About the Writing Business
Oodles more Resources for Writers over on my webpage for Creative Writers.


Regarding Rights / Literary Agent
Dancing Chiva.


Media and Speaking Inquiries
To request an interview or event, click here.

Press Kit
Bio, blurbs, interviews, high res photos, book covers, and more.