I'm delighted to chat with book clubs anywhere in the United States, Canada, and Mexico via telephone or Skype. If your book club has access to a speaker phone or Skype, simply click here to send your request.

The Last Prince of the Mexican Empire, Miraculous Air, Mexico: A Traveler's Literary Companion, and Sky Over El Nido are all in-print and available in paperback editions from both bookstores and all major on-line booksellers.




Some fun things for book groups:

Haunted Historical Fiction: The Curious Coincidences Concerning Senator Claiborne Pell's Mansion
How thin is the veil between our world and the next? I have no doubt that sometimes, if only for a whisper of a moment, it lifts enough that we can hear, smell, glimpse, even touch those on the other side. . . READ MORE Or... listen to the podcast, available free on iTunes.

The Top 5 of the Tussie-Mussie
A "tussie-mussie" is a bouquet of flowers and herbs (and just the thing for a Washington DC belle to press to her nose as she walks through the markets of 19th century Mexico City…) READ MORE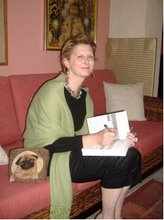 What Connects You to the 1860s?
My novel is based on the true, strange, and heart-breaking story of, as the title says, "The Last Prince of the Mexican Empire." If you've never heard of Mexico's little half-American prince, not to worry: even many beautifully educated Mexicans have not. Mexico's 19th-century history is, to make an understatement, labyrinthically labyrinthical. (I like to say, if you've heard of Santa Anna and you know that Cinco de Mayo is not Mexico's Independence Day, you're doing OK.) . . . READ MORE

A Book Group Meeting Menu
Apart from controversy, there's nothing better than some yummy cake and jolt of coffee to get a book group going. For The Last Prince of the Mexican Empire, my novel based on the true story of 19th century Mexico, I beg you, skip those gloppy nachos and so very twentieth-century-American-tourist "margaritas"; they would not only put everyone to sleep, but they would be no more appropriate than, say, hamburgers and Pepsi for Gone with the Wind. May I suggest some café de olla and Mrs. Yorke's raisin cakes? Recipes follow. Who is Mrs. Yorke, and what is she doing in a novel about Mexico? . . . READ MORE..

Reading Group Guide
From the publisher, Unbridled Books. Includes background and discussion about the book, as well as an author interview and suggested reading list.




Get the Newsletter
Approximately 5 - 6 times a year subscribers receive a free, brief, and informative update by e-mail covering my booksignings, lectures, podcasts, videos, writing workshops, any new publications, plus a compendium of the best from my blogs, "Madam Mayo" and "Maximilian ~ Carlota."


If you do not find the book on the shelf,
the bookstore can order it for you.
All my books are in print
and carried by major book distributors.

Where to buy C.M. Mayo's books and CDs?
Click here for all ordering options.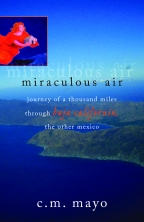 Miraculous Air: Journey of a Thousand Miles
through Baja California, the Other Mexico
Now available in paperback from Milkweed Editions
With elegant prose and an artist's eye for detail, Mayo may just have written one of the best books ever about Baja California. Highly recommended Library Journal
Order Now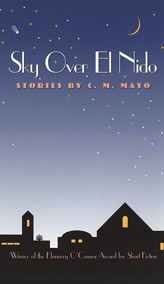 Sky Over El Nido
Winner, Flannery O'Connor Award for Short Fiction
tautly fashioned prose, alive with myriad turns of phrase as on-target as they are idiosyncratic.Publisher's Weekly
Order Now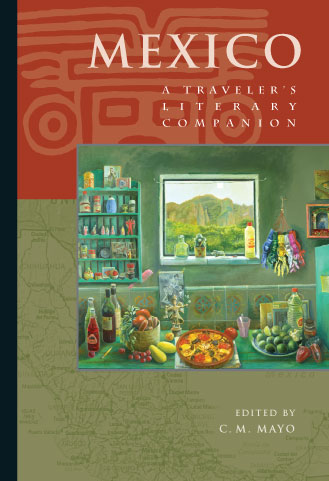 Mexico: A Traveler's Literary Companion
Edited by C.M. Mayo: a dazzling collection of Mexican fiction and prose, many in translation for the first time
Discovering it was like opening a door and walking into a brightly lit room filled with all kinds of literary treasures
Mexico Connect
>>Q & A with C.M. Mayo about this book
Order Now


A Note About the Photo
That's me signing a donated copy of Miraculous Air at the Cabo San Lucas Humane Society annual fundraiser. Every year I set a side a certain number of signed copies of my books to donate for charity auctions. If you have a 501 (c) charity looking for donations of autographed books, get in touch here. Please be sure to provide (1) information about your charity, including a website (2) purpose of the auction / fundraiser (3) when and where the fundraiser will take place.