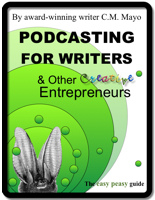 Podcasting for Writers


Based on award-winning writer and avid podcaster C.M. Mayo's one day workshop at the Writer's Center, this ebook provides an introduction and overview of podcasting for writers, from basic concepts to nuts-and-bolts tips. In 10 "easy peasy" steps (along with some "fancy schmancy" alternatives for those so inclined). Mayo shows you how to generate and publish your unique podcast — and yes, get it onto iTunes.



>>Read the complete introduction.





Interview with C.M. Mayo by Jon Winokur.



The Manuscript is Ready— (Or Is It?)— What's Next?
An expanded handout rich with links from C.M. Mayo's presentation at the "Publish Now!" seminar at the Writer's Center, June 24, 2012

Getting Started with Websites and Blogs
My answers to frequently asked questions.



Is Your Author Website Doing Its Job?
A helpful orientation and checklist by Laura Pepper Wu. Found via my amiga the novelist Leslie Pietzryk's excellent Work-in-Progress blog. P.S. What Wu says about Mail Chimp is spot on.

Writing Loglines and the Concept of the Eyespan
Pack the whole enchilada into one super-yummy bite.

Ten Tips for Getting the Most Out of Your Writing Workshop
by C.M. Mayo. For workshops with manuscript critique. Now a podcast (about 8 1/2 minutes)
Language Overlay: A Technique of Fiction
One of the simplest yet most effective techniques of fiction.
The Arc of Writerly Action
A blog post based on my talk on a panel about writing historical fiction, American Independent Writer's Conference, 2011. Includes a handout of recommended reading. >Also an 8 1/2 minute podcast, click here to listen now.
Delcuttering or, The Integrity of Design: The Interior Decoration Analogy
A blog post at Madam Mayo. >Also a 7 minute podcast, click here to listen now.
The Number One Technique from the Supersonic Overview
Writing as the vivid dream; the importance of specific detail that appeals to the senses. A blog post at Madam Mayo.
Twelve Tips to Help You Hang in There & Finish Your Novel
Or other long book project. Now also a podcast.

A 2 min 42 sec video from a panel discussion "The Writer's Life: A Report from the Field" recorded May 22, 2010 at the Writer's Center.


Staying Focused: Writing and Researching the Longer Book Project
A PDF of a handout from my talk at the Writers Center's Leesburg First Friday series, March 5, 2010. This includes 12 Tips to Help You Hang in There and Finish Your Novel; 12 Tips to Help You Get the Most Out of Your Visit to a Library / Archive; and 10 Tips to Organize a Book in Progress.
Twelve Tips to Help You Get the Most Out of Your Visit to a Library / Archive
A handout from a talk for the Writer's Center's First Friday Lecture Series. "Staying Focused: Writing and Researching the Longer Book Project."
Ten Tools for Organizing the Novel-in-Progress
ForeWord Magazine Blog, Publishing Insider Column, March 18, 2009
Link up again, now on my website
The Mental Edge or, Coping with Rejection
A note on sports psychology.
Literary Travel Writing
by C.M. Mayo, from The Writers Carousel, winter / spring 2009
Break the Block in Five Minutes
A Writing Life, guest-blog post, November 5, 2009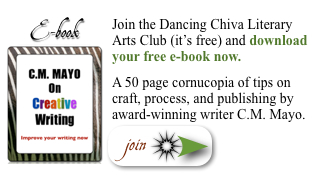 Use an Egg-timer if You Must: The Five Minute Cure for Writer's Block
(Link temporarily down)
ForeWord Magazine Blog, Publishing Insider Column, March 4, 2009
One Dozen Books for the Novelist's Bookshelf
(Link temporarily down)
ForeWord Magazine Blog, Publishing Insider Column, March 11, 2009


Writing Exercises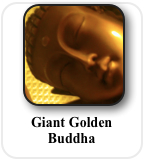 "Giant Golden Buddha" & 364 Other 5 Minute Writing Exercises
The cure for writer's block. Use an egg-timer if you must.

Emulation Exercises






On Publishing (and all the Rest of It)

Answers to the 3 Questions I Am Most Frequently Asked About the Writing Business
*How do I find a publisher?
*Do I need an agent?
*Any tips on book promotion?
Seth Godin's Advice for Authors
Excellent advice from the cutting edge of the new publishing paradigm.
Out of the Forest of Noise: On Publishing the Literary Short Story
by C.M. Mayo. What to expect and how to go about it.
Podcast: "The Writing Life: A Report from the Field," a panel discussion at the Artlantic Festival at the Writers Center, May 22, 2010, with Yours Truly, David Taylor, Alan Elsner, Kevin Quirk, and moderator Jessie Seigal. (Listen to more podcasts here.)
How to Get a Book Published In 10 Not-so-Easy Steps
By Tom Christensen. Excellent advice.
Breaking Into Travel Writing
By L. Peat O'Neil
Sally Shivnan's Top 10 Tips for Publishing Travel Writing in Newspapers
Plus other tips on editing and the writing life.
Thirty Famous Authors Whose Works Were Rejected Repeatedly (and Sometimes Rudely) by Publishers
By Michelle Kerns in Book Examiner.


Editing

To All the Many People Who Ask Me to Read Their Manuscripts
A friendly note with an adapted Irish blessing.

But you still want me to read your manuscript?
OK, here are my rates and policies.

The Manuscript is Ready - (Or Is It?)-- What Now?
The expanded handout from my talk at the "Publish Now!" seminar at the Writer's Center, June 24, 2012

Here are some freelance editors / writers I recommend. Check out their websites:
*Janice Eidus www.janiceeidus.com
*Eva Hunter www.professionalwritingcoach.com
*Marcela Landres www.marcelalandres.com
*Dawn Marano www.dawnmarano.com
*Vicki Meade www.meadecomm.com
*Richard Peabody www.gargoylemagazine.com/richard/richard.html
*Kevin Quirk www.memoirsforlife.com
*Beth Rubin www.onthewritepage.com
*Sara Mansfield Taber www.sarataber.com
*Laura (Lulu) Torbet www.lauratorbet.com

Copyediting. Vital. Do It Or Have It Done.
By Diana Hume George. Read this before you send it out.


Blogging & Social Media

Guest-blogging: A Flourishing New Literary Genre and a Powerful Toool for Promotion (Plus 10 Tips for Coming Up With Your Own Guest-Blog Posts) by C.M. Mayo. Originally published on the Writer's Center's blog, First Person Plural, May 5, 2010.
Twitter Is by C.M. Mayo Originally published in Literal: Latin American Voices / Voces Latinoamericanas #17 The social network. Digital utopia / Las redes sociales. Utopía digital. Summer 2009.
Writers' Blogs: What Works (& What Doesn't) by C.M. Mayo. The ForeWord Magazine on-line Publishing Inside column for March 25, 2009 (Temporarily down... new link to be posted soon.)
Writers' Blogs: Best (& Worst) Practices: a handout from my workshop for the May 2008 Maryland Writers Association Conference.
Madam Mayo's "Gone to the Litblogs": an archive of posts on lit-blogging; includes many helpful links.


More Helpful Websites & Links



Freedom
The best $10 you'll spend this year, I'll betcha. This is an app that will block your access to the Internet from 15 minutes up to eight hours.



Sara Mansfield Taber's Lecture at the Vermont College of Fine Arts on Writing Memoir (Podcast)
Taber is the author of several outstanding literary memoirs, most recently, Born Under an Assumed Name: The Memoir of a Cold War Spy's Daughter. On her website, www.sarataber.com she offers many tips for writers. (Listen to my conversation with her about her memoir and the nitty gritty process of writing here.)



Emma Larkins' Squidoo Lens on Writers Organizations, Groups and Associations By State
Want to meet other writers? Join one or more of these. Don't be shy. Attend the meetings and events. Bring your business card, you know, the one that says, WRITER. (P.S. Get your business cards at www.moo.com)

Derek Sivers on why it's not a good idea to share your artistic intentions

Regina Leeds's 5 + 1 Tips to Make a Writer Happy in an Organized Space
Professional organizer and author of a New York Times best-seller offers her tips for you in a guest-blog post for my blog, "Madam Mayo."

Dinty W. Moore's "The Truth of the Matter: Art & Craft in Creative Nonfiction

Lisa Cohen's Writers' Block Page

Feng Shui for Real Life
Carol Olmstead's feng shui site. Hey, the universe is holographic. And click here to read her top Feng Shui tips for writers.

The 5 Keys to Mastery
DVD inspired by the book, Mastery, by George Leonard.

Kill Your Television

Basil White's Comedy Writing Techniques
Join the MOB.

Writing It Real
Writer and poet Sheila Bender's on-line magazine. Highly recommended.


Washington DC Metropolitan Area- Specific



Writers Room DC

Maryland Writers Association
Monthly meetings and more, including an annual conference
¡Viva la Vida Literaria!
Spanish language resources for Washington DC writers and translators
Washington Independent Writers Association
Now the national American Independent Writers Association (see below).
Women's National Book Association
Men are also welcome.
The Writers Center
Writing workshops, readings and a book store in Bethesda, Maryland.


Other Writers Associations and Organizations

American Independent Writers
This Washington DC-based organization (which used to be the "Washington Independent Writers Association") offers many events and an excellent (and economical) writers conference.
The Authors Guild
Council of Literary Magazines and Presses
Many links! A great place to learn about the many literary journals being published today.
Emerging Writers Network
Founded by Dan Wickett. Many reviews and interviews. Links to literary blogs, and more.
National Novel Writing Month
PEN


Misc.

Lubuto Library Project, Inc.
Help bring knowledge and enlightenment to Africa's street children! This is a wonderful charity founded by Washington DC librarian Jane Kinney Meyers.
Tameme
This is the bilingual (Spanish/English) press I founded. The webpage has a terrific links page with many resources for both writers and literary translators--- and also for anyone interested in writing in Mexico.


Get the Newsletter


Approximately 5 - 6 times a year subscribers receive a free, brief, and informative update by e-mail covering my booksignings, lectures, podcasts, videos, writing workshops, any new publications, plus a compendium of the best from my blogs, "Madam Mayo" and "Maximilian ~ Carlota."