Books, Kindles, CDs & more


Meteor


WINNER, GIVAL PRESS POETRY AWARD


"Meteor pierces the psyche with a dazzling presence and otherworldly light...a book that is both challenging and fun to read."
Linwood D. Rumney
Metaphysical Odyssey into the Mexican Revolution


Francisco I. Madero and His Secret Book, Spiritist Manual


WINNER, NATIONAL INDIE EXCELLENCE AWARD FOR HISTORY


In a blend of personal essay and a rendition of deeply researched metaphysical and Mexican history that reads like a novel, award-winning writer and noted literary translator C.M. Mayo provides a rich introduction and the first English translation of Spiritist Manual, the secret book

by Francisco I. Madero, leader of Mexico's 1910 Revolution and President of Mexico, 1911-1913.

+

Book Club?
+

En español

The Last Prince of the Mexican Empire


A novel based on the true story. A Library Journal Best Book 2009


"a crucial period in Mexican history... an engaging story brimming with majestic ambition." Publisher's Weekly


+

Book Club?
+

En español
Miraculous Air



Journey of as Thousand Miles through Baja California,


the Other Mexico

"One of the best books ever about Baja California. Highly recommended" Library Journal
+

Book Club?
Mexico: A Traveler's Literary Companion




Edited by C.M. Mayo: a portrait of Mexico in a dazzling collection of Mexican fiction and prose by 24 Mexican writers, many translated for the first time.
"It will open your eyes, fill you with pleasure and render our perennial vecinos a little less distante." Los Angeles Times Book Review
+

Book Club?
Sky Over El Nido




Winner, Flannery O'Connor Award for Short Fiction

"A remarkable literary debut... tautly fashioned prose, alive with myriad turns of phrase as on-target as they are idiosyncratic." Publisher's Weekly (starred review)

+

Book Club?

Dispatch from the Sister Republic or,
Papelito Habla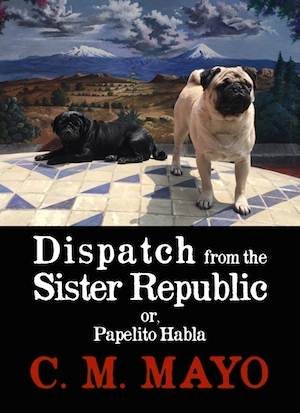 A longform essay about the Mexican literary landscape and the power of the book.

Available in Kindle.
From Mexico to Miramar or, Across the Lake of Oblivion



A nonfiction novela about a fairytale: a visit to the Emperor of Mexico's Castle in Italy
Winner, Washington Independent Writers Prize for Best Personal Essay
Podcasting for Writers & Other Creative Entrepreneurs




Based on award-winning writer and avid podcaster C.M. Mayo's one day workshop at the Writer's Center, this ebook provides an introduction and overview of podcasting for writers, from basic concepts to nuts-and-bolts tips.
The Essential Francisco Sosa or, Picadou's Mexico City



The acclaimed essay from Creative Nonfiction magazine's "Mexican Voices" issue read by the author. Single track, time approximately 35 minutes. Winner, Lowell Thomas Award for Best Personal Comment; Winner, Washington Independent Writers, Best Essay
My Recollections of Maximilian by Marie de la Fère


Introduced by C.M. Mayo
An eyewitness memoir of Mexico's brief, sparkling but doomed Second Empire under Maximilian von Habsburg: A handwritten manuscript circa 1910, from the Bancroft Library, University of California, Berkeley.
EBOOK: PDF (free download)
The Building of Quality



A short story with Q & A
Originally published in Kenyon Review, Summer 2004. A tornado deposits what may or may not be a temple in John and Jane Smith's backyard. The destinies of all concerned are most peculiar.
| | |
| --- | --- |
| | You do not need a Kindle to read Kindle editions. If you have an iPad, you can download a free Kindle reader in the app store. |
RECOMMENDED READING

For WRITERS
RECOMMENDED READING


For MEXICOPHILES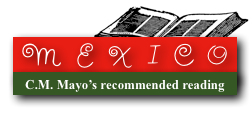 An embryonic and frequently updated list for English language readers.

MY DAD'S BOOK:
CAPTURED: THE FORGOTTEN MEN OF GUAM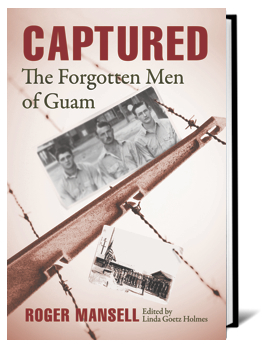 Roger Mansell,
the pre-eminent historian of Pacific POWs, devoted the last years of his life to unearthing and telling this forgotten story, and after his death, the work was completed by his colleague, the esteemed POW author Linda Goetz Holmes. Chronicling a lost chapter of World War II, Captured promises to be an authoritative, fastidiously researched and compelling read.
......
—Laura Hillenbrand,
author of Unbroken: A World War II Story of Survival, Resilience and Redemption




www.rogermansell.com


Available from all major online booksellers, including amazon.com and