Madam Mayo: blogging since March 2006 on sundry subjects including books, bees, cheese, creative writing, human potential, Mexico, pugs, screen publishing, soundwork. Guest-bloggers on many Wednesdays.

Read it online anytime, and now get it via Whispernet on your Kindle: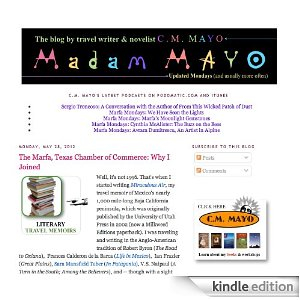 Giant Golden Buddha was a blog . . . now it's a free on-line book. From October 1, 2005- September 30, 2006, I posted a daily 5 minute writing exercise. These address aspects of craft as varied as point of view, dialogue, plot, body language, imagery, synesthesia, and beginnings. Most are mine, but several are from other poets and writers, as you will see. May they be both fun and useful for you.





Maximilian ~ Carlota which launched in July 2010, is an outgrowth of my Maximilian von Mexiko webpage, which I started some years ago to share my research about the Second Empire / French Intervention for The Last Prince of the Mexican Empire, my novel based on the true story. The novel was published in English in 2009 and in Spanish in September 2010 as El último príncipe del Imperio mexicano. My files are deep, and readers continue to send me new information, which I would like to share. Updated most Tuesdays. Though the blog is in English, comments are warmly welcome in either English or Spanish.



The Marfa Mondays Podcasting Project started up in January 2012. In addition to the podcasts, there are blog posts.


Reading Tolstoy's War and Peace, a blog of the journey towards fulfilling my 2011 New Year's resolution: finally reading the whole enchilada.





The Bleat: The Blog of Dancing Chiva Literary Arts, S.C. Dancing Chiva specializes in e-books, limited editions,
writing workshops, and more. Based in Mexico City. Updated monthly. Better yet: subscribe to the Dancing Chiva newsletter, which goes out 4 - 6 times a year. Subscribers receive a free e-book, C.M. Mayo on Creative Writing: The Best from the Blog, plus news of podcasts, workshops, and much more