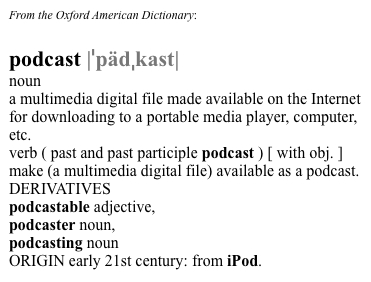 A "podcast" is an on-line audio (and, less commonly, video) file. It could be of a deeply probing interview; a bunch of kids singing "Kumbaya"; or, say, you reading from your novel. It could be a single file—your reading on March 17, 2013, or, say, a radio show-style series of interviews with fellow horror novelists, one posted each Saturday upon the toll of midnight. It's a wild bouquet of possibilities.

How to listen in to mine? Just visit my webpage and click on the button. It's that simple.

For those with some more computer savvy, I recommend using the free podcast app on an iPhone or iPad. You can also subscribe to my and other podcasts on iTunes (the downside to that, however, is that the RSS feed does not always show older podcasts.)

Me? I like to download podcasts to my iPad to listen to while I'm driving or cooking.