Baja Afresh:
West Side Stories: Mayo Publishes Her Memories of Baja California by Louis Jacobson



The Washington City Paper, Washington DC, August 2002 © Louis Jacobson. Posted by permission of the author.



During the mid-'90s, when author C.M. Mayo was living in Mexico City, the capital was in a seemingly unshakable funk. President Carlos Salinas de Gortari had slipped into scandal-ridden retirement. The leading presidential candidate, Luis Donoldo Colosio, had been gunned down while campaigning. Crime, both drug-linked and petty, was soaring. The peso had been devalued.

Mayo decided that she needed to see Mexico from a different perspective, if only to clear her head. So she decided to visit Baja California, the mountainous, 1,000-mile-long peninsula on Mexico's Pacific coast. "I was incredibly curious," Mayo says. "I had been to a resort city in Baja, but I didn't know what lay beyond it. I could see the mountains, and I was told that people lived in there and hunted deer to survive. It was all very mysterious. I said to myself, I don't know about this place, but I need to."

Mayo, who now alternates between homes in Mexico City and Washington,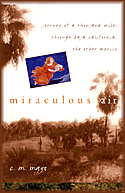 eventually returned to Baja for weeks at a time, over a period of four years. Her memoir of these visits, Miraculous Air: Journey of a Thousand Miles through Baja California, the Other Mexico, will be published this fall. [update 2007: paperback edition now available]
Baja California is as distant from cosmopolitan Mexico City as Appalachia is from Washington. "In a literal sense," she says, "it's a parallel Mexico, lying across the Sea of Cortez from the mainland." Outside the handful of resort cities that dot the coast and the teeming border cities of Tijuana and Mexicali, Baja is a land of subsistence ranches, where people raise goats and, if they're able to, limes and oranges. Though the peninsula's population is roughly 2.8 million, Tijuana and Mexicali account for three-quarters of that total. In the rest of Baja, long-running family ties mean that everybody seems to know everybody else.
Mayo sometimes visited Baja alone, sometimes with her sister. They stayed in nice hotels, private homes, tents— and occasionally, she says, "a few hotels where I did not want to touch the sheets." Mayo set up meetings in advance, but she often found that the most interesting conversations were the ones that happened by chance. Once, she wanted to see a remote, abandoned Jesuit mission; a rancher volunteered to serve as her guide, but the trip never materialized because her guide couldn't locate a mule.
Instead, the man told Mayo his life story. He had worked on the road crew that, in 1973, completed the Transpeninsular Highway— the public-works project that Baja residents still remember as the harbinger of modernity. (Before that, making a trip to the doctor's office meant a three-week burro ride.) For Mayo, conversations like that one helped puncture the stereotype of Baja as little more than a drug-trafficking corridor. "The border area is rough, but in the middle, people are kind," she says.
Mayo, now "in her early 40s," has an unusual background for a literary writer. After growing up in Northern California, she studies economics at the University of Chicago. She married a Mexican economist, Agustín Carstens, and relocated with him to Mexico City in 1986. While there, she worked in investment banking, taught economics, and published two finance text books. After her first collection of stories, Sky Over El Nido, won the Flannery O'Connor Award for Short Fiction in 1995, Mayo decided to focus exclusively on her literary writing.
In recent years, Mayo has gained attention for founding and editing Tameme, the first literary journal to publish side-by-side translations of new American, Canadian, and Mexican writing. Tameme— an ancient Nahuatl word for "messenger"— "is a place for translators to shine," she says. Unlike most literary forums, Tameme includes translators' biographical notes and puts their names on the cover.
Though Mayo returns often to Mexico City, she has spent much of her time since1999 in Washington, where her husband worked for the International Monetary Fund. The DC posting allows her not only to research her upcoming historical novel at local libraries but also to stay in touch with the local writing scene, which she calls "stimulating." "It's small enough not to be overwhelming," she says. "I think that, by contrast, the literary scene in New York would feel like a cannon hose."