SELECTED INTERVIEWS

Baja Breeze
In the premier issue (August- Sept 2007), editor Adam Behar interviews C.M. Mayo about the new paperback edition of her memoir, Miraculous Air.







An interview with C.M. Mayo about travel writing,
Baja California, V.S. Naipaul, and the writing of Miraculous Air.





Louis Jacob interviews C.M. Mayo about Miraculous Air.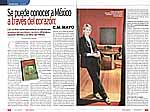 Poder y negocios
An interview (in Spanish) by Dolia Estevez about Mexico: A Traveler's Literary Companion, Miraculous Air, and Tameme. October 2007.




Solutions Abroad
Umair Khan interviews C.M. Mayo about living in and writing about Mexico. June 2007.

FREQUENTLY ASKED QUESTIONS

Why is there an angel carrying a tiny house on the cover?
(of the University of Utah Press hardcover and Milkweed Editions paperback editions)?


Read this excerpt to find out.

Book Club?
I am always delighted and honored when a book club selects one of my books for reading and dicussion. Your questions answered.



Where can I find a copy of Miraculous Air?
All major on-line booksellers carry it and it's now available in Kindle. (Librarians: it is also available from Ingram.)

Is this book available in Spanish?
It will be soon.



Where can I find this book and your other books?
Right here.



Do you have any advice for travel writers?
On occasion I teach a workshop on literary travel writing. You can view my workshop schedule and also find oodles of resources for writers on my workshop page.

Any advice about current conditions for traveling in Mexico and in Baja California?
These days I am mainly focussed on my current work-in-progress, about Far West Texas, so, alas, I am not the best person to ask. In any event, my works are of literary narrative; they do not pretend to supply the sort of information one can find in a guidebook or on websites such as Tripadvisor. That said, I do hope that my book may enrich your travels. P.S. Read my blog post on tips for summer day hiking in the desert.

More interviews with C.M. Mayo
Some later interviews about more recent books also discuss Miraculous Air and Baja California.