Baja Breeze:
C.M. Mayo's Magical Mystery Tour of Baja

In the premier issue of Baja Breeze, editor Adam Behar interviews C.M. Mayo about her memoir, Miraculous Air. Reprinted by permission of Baja Breeze. Vol 1, Issue 1, Aug-Sept 2007.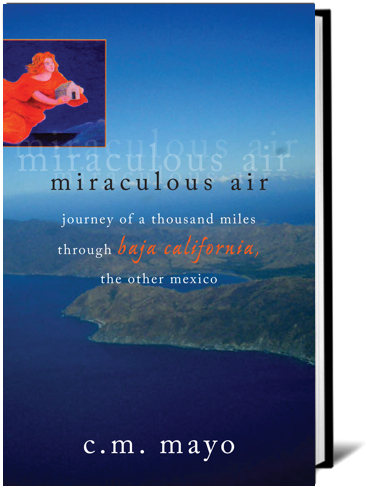 Q: In researching and writing this book, what was revealed to you about Mexico— and Northern Baja, in particular— that you hadn't known about or perhaps hadn't seen as clearly?

First, how the Transpeninsular Highway changed everything. Various sections of the highway were built in earlier years, but the entire length of it was not completed until 1973. For so many people, especially in the tiny pueblos and ranches near the highway, the change was like night to day.

Also, how completely intertwined with the United States the peninsula's history is— there is no getting around it.

And the extent and nature of recent immigration from mainland Mexico. Many of the bajacalifornios I spoke with were more wary of mainlanders than of North Americans. That especially suprised me.

Q: What in Mexico first and then, specifically in Northern Baja, would be a shame if people never saw or experienced it?

Impossible question! There would be too many things to list. My personal favorite visual candy: San Quintin's volcanos at sunset; the boojum forest in the Desierto Central; a chunk of bubblegum- pink onyx from El Marmol; the gardens (birds signing) of Rancho la Puerta in Tecate. Installation art at the Centro Cultural Tijuana.

Another thing— not exactly eye candy— is to stand before the wall at the US-Mexico border. It is a very sobering, even horrifying thing to see, the size of it, and the way, at the western end, it cuts right into the sea, like a razor blade through the waves.

Q: In Miraculous Air, you devote an entire chapter to a study of Tijuana. You mention having trouble getting a sense of place there. Why do you think that is?

It's one of the most dynamic cities on the continent, bustling with factorie— and remember, I'd just traveled up from the south where there are these mind-bending stretches of desert, and the little ranchos in the sierra, a society where everyone knows everyone else for miles around.

Q: In what noticable ways are the people of Mexico different from Americans and Europeans?

I don't really perceive forests, just trees. By that I mean, I try—as much as I can— to cast a suspicious eye on generalizations. Mexico is stupendously complex, ethnically, sociologically, you name it.

In Baja California, you can find internationally educated professionals, doctors, architects, marine biologists, who are at the top of their field. You can also find severely impoverished field workers from Oaxaca whose first language is, say, Zapotec. You can find avant-garde artists, goat ranchers, taxi drivers, people with Irish names whose ancestors have lived in Baja California for two hundred years. Chinese-Mexicans. Italian-Mexicans. And so on.

In my anthology of Mexican fiction and literary prose, Mexico: A Traveler's Literary Companion, I tried to provide a sense of this complexity and variety. There's a story set in the Bajio (central Mexico) about a wealthy rancher, another set in a hardscrabble working class neighborhood in Morelia, another about a Chinese-Mexican farmer in Sinaloa...

There are, as the historians like to say, "many Mexicos."

Q: You cite John Steinbeck's line, "We do not take a trip; a trip takes us." Is this where travel writing meets Gonzo journalism? I know writers hate to categorize their work, but what is the fashionable label these days to describe your travel writing? I've heard this term, 'cultural tourism.'

I think of my writing as literary travel writing. Some would also call it "creative nonfiction," a more recent term that encompasses travel memoir and personal memoir. "Creative nonfiction" was coined by Lee Gutkind, a journalist who founded Creative Nonfiction magazine. Gutkind defines it as "dramatic, true stories using scenes, dialogue, close, detailed descriptions and other techniques usually employed by poets and fiction writers about important subjects— from politics, to economics, to sports, to the arts and sciences, to racial relations, and family relations." Several of the chapters in Miraculous Air and my recent essays— one on Mexico City and another on the Emperor Maximilian's castle in Italy— have appeared in literary journals as "creative nonfiction."

Q: How is Mexico depicted in the movies? Can you think of movies where the studios got it wrong? Others where they were right on target?

Movies! I don't think about movies much because otherwise I might want to write a screenplay. Two recent movies about Mexico that I very much enjoyed: Salma Hayek's "Frida" and that wacky "Nacho Libre" starring Jack Black. I've heard raves about "Bajo California" though— terrible to admit— I haven't yet seen it.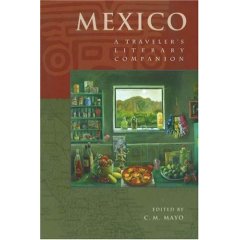 Q: In your anthology Mexico: A Traveler's Literary Companion, you uncover a number of talented writers outside of Mexico City whose work you translate. Who should we know about? And where do they currently reside?

There are 24 writers in this collection, of which I translated six. I think all 24 of these writers are fabulous— and yes, many live outside of Mexico City. Of the regional writers, some of the most interesting are Ricardo Elizondo Elizondo, who lives in Monterrey, Pedro Angel Palou, who lives in Puebla, Araceli Ardon, who was born in San Miguel de Allende and now lives in Santa Barbara, California, and Daniel Reveles of Tecate.

Who should you know about? It's a long list, and changing every day. Carlos Fuentes, one of Mexico's most prolific and internationally recognized writers, is the best-known writer in the collection. Some who are stars in Mexico, but not well-known abroad are Fernando del Paso, Juan Villoro, Angeles Mastretta, and Monica Lavin.

There are some very interesting writers who, for one reason or another, are not in this collection: Luis Alberto Urrea, Paco Ignacio Taibo, Elena Poniatowska— I offer a list of many more on my webpage.

Q: It's taken a while, but Tijuana seems to be cultivating an exciting community of artists, though many of them may spend more time in San Diego and L.A. What must Baja's writers do to become more of an organized entity, more of a force that garners respect?

I don't know enough about the current literary scene in northern Baja California to be able to say; however, I can offer my view that writers, like any artists, have much to learn from one another. I have found membership in organizations such as PEN and the American Literary Translators Association to be of great value. In Mexico, there is the SOGEM. And there's nothing like a good reading series, well promoted in local newspapers and on the Internet, to bring together like-minded spirits.

C.M. Mayo is the author of the widely-lauded travel memoir, Miraculous Air: Journey of a Thousand Miles through Baja California, the Other Mexico, and Sky Over El Nido, which won the Flannery O'Connor Award for Short Fiction. Founding editor of Tameme, the bilingual Spanish/English) chapbook press, Mayo is also a translator of contemporary Mexican poetry and fiction. Her anthology of Mexican fiction in translation, Mexico: A Traveler's Literary Companion, was published by Whereabouts Press in March 2006. Other awards include three Lowell Thomas Travel Journalism Awards. A Texas native raised in Northern California and a long-time resident of Mexico City, Mayo is at work on a novel set in 19th century Mexico, The Last Prince of the Mexican Empire. C.M. Mayo's books are widely available in fine bookstores as well as from major on-line booksellers including www.amazon.com and www.bajabooksandmaps.com

Read more about her work at www.cmmayo.com

Reprinted by permission of Baja Breeze. Vol 1, Issue 1, Aug-Sept 2007.