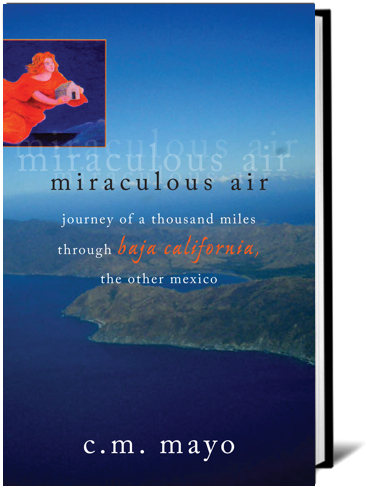 Why is there an angel carring a tiny house on the cover?
To find out, read this excerpt from chapter 3,
"The Llano de Magdalena to San Ignacio: Like People You See in a Dream"

IN THE YEAR 1291, having sacked Jerusalem, the Turks were marching towards Nazareth. With their mangonels and giant catapults, if they could have they would have reduced the house of the Virgin Mary to a pile of rubble, but — just in the nick of time — in a ray of light from Heaven, a company of angels appeared and they lifted the little red-brick house into the air, and then flew it across the sea (with a stopover in Yugoslavia) and, ever so gently, set it in down on a hill near a laurel grove on the Italian coast south of Ancona.
This was a story dear to one Giovanni Salvaterra. When he was born in 1648 in Milan, the House of the Virgin — or as he came to know it, the Santa Casa — had long been enclosed within a magnificent edifice of marble, its sumptuous sculptures and frescos and paintings by some of the greatest artists of the Renaissance. The town that had grown up around it was named Loreto, after the Latin for "laurel grove." At the age of thirty, now a Jesuit priest with his name Hispanicized to Juan María Salvatierra, he was sent to New Spain, where he carried his devotion to Our Lady of Loreto to the very furthest reaches of the northwest frontier, and then in the year 1697, across a sea to the barbarous island of California. On his arrival at that far shore, wrote a Jesuit poet, Aligerum coetus, unoque tenore triumphis, a chorus of angels sang in triumph.
When I first read this story of the rescue of the Virgin's house, I laughed. But it turns out that the little house enshrined in Loreto, Italy may in fact be the house of the Virgin. The crusaders carried back all sorts of rubble and relics on their return journeys. One of the main shipping families on the Adriatic during the Crusades were the Angelis — hence, angels?
In any case, here was my itinerary for the interior. For the story of the Jesuit conquest, which was made in the name of Our Lady of Loreto, is the bones of Baja California. From Todos Santos, I would drive to Father Salvatierra's first mission in Loreto, nearly three hundred miles north on the Sea of Cortés...

From Miraculous Air: Journey of a Thousand Miles through Baja California © C.M. Mayo 2002 All rights reserved.
*The cover features the painting "L'Angelo di Loreto"
by Aligi Sassu,
courtesy of the Museo Pinacoteca della Santa Casa Loreto, Italy.