Three key assumptions:
...You already know how to write.
...You want a new venue for your writing, as well more visibility for your writing and writing-related activities.
...You are interested in the blog as a new literary genre / artform.


BEST PRACTICES
#1. Start with clear intentions.
What do you want your blog to do for you? How much time are you willing to spend blogging? What image do you want to project? What kind of readers are you aiming to attract?

I started my blog, "Madam Mayo," to help promote my anthology, Mexico: A Traveler's Literary Companion, as well as my other books, events, and workshops. That said, I have continued to blog because I love exploring the form. I now think of my blog as a kind of filter (read about that here).

#2. Open your mind to the many possibilities of what your blog can be and do.
Be careful not to jump to conclusions about what a blog is or is not. Guest-blogging on "Madam Mayo," Tom Christensen (whose blog is "Right-reading") wrote: "Just as there is no one way to write a novel, so there is no one way to write a blog. I imagine Joyce's blog would look a lot different from Proust's, or from Kafka's, or from Celine's, and so on."

Be sure to have a look at my list of top writer's blogs— you might be amazed at how different they are from one another. Writers are forever telling me, "I can't blog because I don't have time to post every day." But why, pray tell, do you "have to" post every day? Or, "I can't blog because I don't have time to deal with all the comments." Who says you have to allow comments?

With your blog, you make the rules.

#3. Provide content that is useful, interesting, charming, or at least funny.
Because otherwise you will not have readers! This sounds obvious, but for a large number of writers, alas... well, go visit a few and see for yourself.... Writes Tom Christensen (again on "Madam Mayo"), "you have to have something original to offer. Some bloggers do succeed as aggregators of content produced by others, but I think it is more difficult to get by with that approach than it used to be. Sure, many posts can consist of passing along items spotted elsewhere, but unless you create some original content with a unique point of view, it will be difficult for the blog to grow."
#4. Make it clear to a first-time visitor who you are as a writer.
Your name, what you write, the link to your books and web page, etc. This information can be contained in a link and/or the sidebar, but make sure it's right up front.
#5. Offer brief posts, as opposed to essay-like posts.
There are some notable exceptions, but generally, the better blogs offer short posts (a single sentence to a paragraph or two), that are rich with quality links.

#6. Feature guest-bloggers.
A voice other than your own can liven up your blog. Tip: Anyone who is actively promoting something (a new book, for example) is usually game to offer a guest-blog post. I find they are most likely to accept when this does not require more than a paragraph of writing, and when I can offer them a specific date for their guest-blog post. Madam Mayo, for example, hosts guest-bloggers (generally) on Wednesdays with a "5 link format."
#7. Offer lots of good links.
For example: if you mention a book, link to that book's page on, say, amazon.com. If you mention, say, Jane Austen, be sure to offer a link to some web page about her. I love to find lists of links. On my own "Madam Mayo" blog, I offer, for example, Top 10 Books read in 2007; Top 5 Pug Videos on Youtube; 10 Tips for Getting the Most Out of Your Writing Workshop.
#8. Post on a regular schedule.
To attract repeat visitors, predictability is more important than frequency. Though certainly, frequency helps. As noted on the home page, "Madam Mayo" is "updated every Monday and in-between more often than not. Guest-blog posts generally on Wednesdays."
#9. Indulge in a few off-topic obsessions.
This tip is from novelist Leslie Pietrzyk, whose blog is "Work in Progress." Guest-blogging on "Madam Mayo," she wrote, " I enjoy feeling there's a person— complete with quirky taste— behind the magic curtain."
#10. "Mine" your blog.
Dig into your blog and bring up the better / more interesting / traffic-generating posts and link to them from your sidebar. Some of "Madam Mayo's" post popular posts include "The 3 Questions I am Most Frequently Asked About the Writing Business"; Hypnerotomachia Poliphili, and "Jill Bolte Taylor's TED Video".
#11. Offer Beefy Blogrolls.
Writes Tom Christensen, "Your 'link neighborhood,' the constellation of sites you link to and that link to you, says a lot— both to your readers and to the search engines— about the nature of your blog. It's karmic— if you are generous with credit, praise, and links, I promise you will be repaid."
#12. Offer RSS feed.
RSS means "Really Simple Syndication" and, basically, it is a way for readers to subscribe to your blog's updates (or "feed") without their having to actually go into your website and without your having to take their e-mail address.
#13. "Bookmark" and/or "tag" your posts.
If you have time, bookmark your posts to bring in more traffic. For more about this and how it works, see Blogging for Dummies.

#14. Don't use the free blogging programs and hosting— get your own.
Otherwise, you don't control your own blog. I need to take my own advice (right now my blog is on www.blogger.com), and will, asap.

WORST PRACTICES
#1. Blogging that's nothing but flogging
Leslie Pietrzyk, guest-blogging on "Madam Mayo" wrote: "I'm happy you have a book out; I really am. But if it's all there is to your blog— YOUR book, YOUR readings, YOUR conferences, YOUR mother loving the book— I am going to move on. Please learn to promote yourself shamelessly in a discreet way." Writes Tom Christensen, again on "Madam Mayo," "Try to look at the blog as the product, not as a vehicle for promoting the product: that is how your readers will look at it."
#2. Endless self-referential navel-gazing
Tom Christensen, guest-blogging on "Madam Mayo" wrote, "being too self-referential is a common, and deadly mistake."
#3. Opening a blog post with an apology
"Sorry not to have been posting as I should"— oh, yecch. Just blog.
#4. Long strings of ginormous jpegs
I'm talking about pictures here. I love to find them, and I love to include them— but when a blog post has several of them, and I'm on dial-up, and they take eleven cen-tu-rie-sssss to doooooooown-n-n-n-n-load, I've surfed away, click.

#5. Black or dark backgrounds
These may look lovely, but they are a strain to read. Be kind to your readers, use a white or very (and I mean very), pale background.
#6. As a header, using the generic forms provided by the hosting service
Try to get something original in there that presents you and your blog in the way that best serves your purposes.
RECOMMENDED READING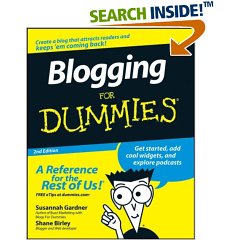 Blogging for Dummies, by Susannah Gardner and Shane Birley, Wiley Publishing, 2007
See also "Madam Mayo" on www.cmmayo.com which has an extensive archive of posts on blogging and writers's blogs.



SELECTED HOSTED BLOG SERVICES

Blogger www.blogger.com
WordPress www.wordpress.com
Typepad www.typepad.com
For more about choosing blogging software and services, see Blogging for Dummies.


SELECTED WRITERS'S BLOGS
(All Very Different From One Another)
#1. Design expert and author Edward Tufte's Ask E.T.
He calls it a moderated forum. Yeah, I'm calling the page a blog because I want to.
#2. Novelist and journalist James Howard Kunstler's Clusterfuck Nation
Once a week, a zippy op-ed style essay.
#3. Novelist and creative writing teacher Leslie Pietrzyk's Work-in-Progress
Highly focused and meaty with helpful information. Frequently updated and features many guest-bloggers.
#4. Poet and literary magazine editor Deborah Ager's 32 Poems
Wide-ranging, quirky, frequently updated. Big on Web 2.0 tools.
#5. Childrens writer Erica Perl's Pajamazon
Childrens' book recommendations (and a bit more). Part of Offsprung news.
#6. Travel writer Rolf Potts' Vagabonding
Fun, daily updates, multiple bloggers working for him.
#7. Professor of History, Middle East expert and author Juan Cole's Informed Comment
One of the go-to places for news about Iraq and elsewhere in the Middle East. Updated daily with multiple links and commentary. (Boy howdy does he sell ads!)
#8. Novelist Laila Lailami's Moorish Girl
She's been around almost from the time blogging began.
#9. Editor, graphic designer, translator and writer Tom Christensen's Right-reading
Eclectic quality links, and he encourages both mail and comments.
#10. A cabal of crime novelists's Naked Authors
Regular posting by Paul Levin, Patricia Smiley, James O. Born, Jacqueline Winspear, and Cornelia Read.

#11. Fiction writer and editor Maud Newton
News, opinion, a charming miscellanea--- hers is one of the longest-standing and most respected lit-blogs.
#12. Novelist and essayist Jane Smiley (on the Huffington Post)
One of our finest novelists. Her blogging, however, is focused on politics.
#13. Fiction writer and journalist David Lida's Mostly Mexico City
Interesting photos of Mexico City with brief commentary.

#14. Novelist M.J. Rose's Buzz, Balls & Hype
She's the author of some steamy best-sellers; the blog supports her "AuthorBuzz" advertising business.

#15. C. Monks's Utter Wonder
Quirky, elegant design.
+++++++++++++++++++++++++++++++++++++++++++++

See also:

Getting Started with Websites and Blogs: My Experience and Some Tips

Eight Conclusions After 8 Years of Blogging