Dear Subscribers,
Welcome to all, and especially warm welcome to those of you who are new to this list. This month I'm announcing a couple of new workshops as well as new podcasts, and forthcoming publications.


==WORKSHOPS==

September 24, 2011 Bethesda MD


"Techniques of Fiction "
One Saturday only. 10:00 am - 3:00 PM
(includes a one hour break for lunch on your own)*
The Writers Center
$75 per person
Click here to register on-line
For both beginning and experienced fiction writers, "Techniques of Fiction" focuses on generating new material with exercises addressing specificity, point of view, synesthesia, imagery, image patterning, plot, rhythm, and the use and misuse of dialogue. The goal is that by the end of the workshop, your writing will be of notably higher quality.
*Bring a brown bag or, just around the corner there are several restaurants and cafes.


In February, I'll be participating in the writing conference and teaching "Techniques of Fiction" in San Miguel de Allende, Mexico.
For more about that, please visit my workshop schedule page.
Later in the year, I may also be offering a one day workshop in Mexico City. Stay tuned.




==FREE E-BOOK===
(For subscribers only)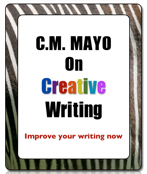 "C.M. Mayo on Creative Writing: The Best from the Blog," a 50+ page cornucopia of the tips from my writing workshops. Click on the cover to download this fully formatted PDF (which you can read on any computer and also open in iBooks).
[subscribers receive the passwords for free e-books in the newsletter e-mail]






==NEW AND FORTHCOMING BOOKS==



This November I'll be publishing my translation—the first into English—of Mexican Revolutionary leader and President Francisco I. Madero's Spiritist Manual as an e-book. Watch the trailer! I will be talking about it, and its importance in understanding Mexico's Revolution, at the Author's Sala in San Miguel de Allende on November 10th.
For details about that event, please visit my "events" page.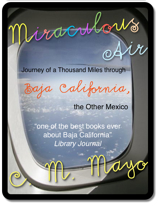 Miraculous Air, my memoir of travels in Baja California, originally published by the University of Utah Press and available in paperback from Milkweed Editions, is now also available in Kindle wth a snappy new cover.


From Mexico to Miramar or, Across the Lake of Oblivion, a long essay about a journey to Maximilian von Habsburg's castle in Trieste, is also available on Kindle.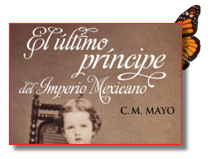 The Last Prince of the Mexican Empire is available in harcover, paperback, and e-book editions.
The Spanish translation, El último príncipe del Imperio Mexicano, is available in paperback. (The translation, by Mexican novelist and poet Agustín Cadena, is superb.)
>>For all ordering options for all my works, click here.






=== PODCASTS===





Techniques of Fiction: The Number One Technique in the Supersonic Overview
From C.M. Mayo's "Techniques of Fiction" workshop: the number one technique. An explanation with examples, plus a nuggest of advice from Chekhov. (For C.M. Mayo's upcoming workshops, and for many other resources for writers, click here.)*About 8 minutes


Apropos of the new e-book of Miraculous Air, a new podcast: my reading of an excerpt from the chapter on the Jesuits in San Ignacio, "Like People You See in a Dream"
Listen in for free on podomatic or iTunes.

"A Traveler in Mexico: A Rendezvous with Writer Rosemary Sullivan"
A reading of C.M. Mayo's article originally published in Inside Mexico, March 2009, with the author of Villa Air-Bel: World War II, Escape, and House in Marseilles. *About 10 minutes

Many more of my podcasts on various topics, and including several on the craft of fiction can be found here:
http://www.cmmayo.com/podcasts.html





=== AT THE BLOG, "MADAM MAYO"===

I post there on Mondays and host guest-bloggers on Wednesdays. A few recent posts:



My Excellent (If Occasionally Head-Banging) E-Book Adventure

Review of Francisco I. Madero: Apostle of Democracy by Stanley R. Ross

Review of The Beekeeper's Lament by Hannah Nordhaus

Review of Art, Life, and UFOs by Budd Hopkins

Guest-blogger App Designer Julia Sussner on 5 Fabulous Apps to Explore for Yourself

Guest-blogger Sam Quinones Wants Your True Tale
Seriously, send him something.



==AND AT MY OTHER BLOG, "MAXIMILIAN~CARLOTA"==

This is the blog I use to share my research into that 19th century period in Mexico known as the Second Empire or "French Intervention." Basically I am going through my files and bookshelves, one Tuesday at a time. This research was intensive-- all for writing my novel, The Last Prince of the Mexican Empire, which is based on the true story. The research has been pretty quiet recently but there is a fun guest-blog by San Miguel de Allende native Maruja González, "The Emperor's Little Pears."



===INTERVIEWS===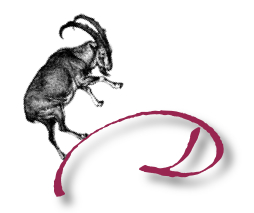 In-Reads.com
"Author Turned Publisher C.M. Mayo Takes Digital Rights Into Her Own Hands" Jada Bradley interviews me about Dancing Chiva Literary Arts and the adventure of digital publishing. July 25, 2010

>Read more interviews here.