AUGUST 2015

Dear Subscribers,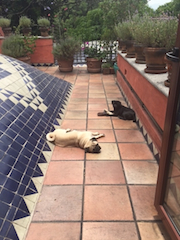 My writing assistants, Uli and Washi, have been busy this summer snoozing their way through some yummy dreams. Speaking of dreams, I've working on my next book, World Waiting for a Dream: A Turn in Far West Texas, aiming for a rough draft by the end of this year. Apropos of that, the Marfa Mondays Podcasting Project continues. Listen in to those podcasts anytime— there are 18 posted so far, most with transcripts as well.

In this newsletter: New podcasts, the upcoming workshop for

the San Miguel Writers Conference and other events, news about my book, Metaphysical Odyssey into the Mexican Revolution (it won the National Indie Excellence Award for History!) and its Spanish translation; the best articles and interviews from the blog, "Madam Mayo," plus a batch of Far West Texas videos, and new translation.





MARFA MONDAYS PODCASTING PROJECT

These podcasts, exploring Marfa, Texas and the greater region of Far West Texas, are apropos of my book in-progress about Far West Texas.

The latest podcasts are:

#18 Lisa Fernandes, Barrel Racer at the Pecos Rodeo
Podomatic + iTunes + Transcript
(APPROX 23 MINUTES)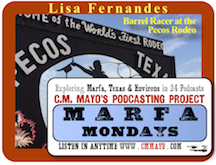 "Everybody wants to win Pecos. I mean, anybody who's ever rodeoed in the world wants to win the Pecos Rodeo... You can ask anybody who knows anything about rodeo in the world, and they will tell you that Pecos, Texas is special."...— Lisa Fernandes



#17 Under Sleeping Lion: Lonn Taylor in Fort Davis
Podomatic + iTunes + Transcript
(APPROX 1 HOUR)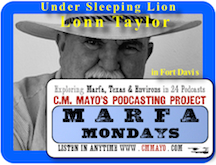 "Everybody kind of has a stereotype of Marfa either as the cattle town where they filmed 'Giant' or a contemporary art center. I like discovering things that don't fit into that stereotype."...— Lonn Taylor

Historical novelist and rock expert Mary S. Black interviews me for her blog
"C.M. Mayo, 'Marfa Mondays' and Writing"




New transcripts since the last newsletter:
Marfa Mondays #9 Mary Baxter, Painting the Big Bend
Marfa Mondays #8 A Spell in Chinati Hot Springs
Marfa Mondays #7 We Have Seen the Lights (On the Marfa Ghost Lights)
Marfa Mondays #6 Paul Graybeal: Marfa's Moonlight Gemstones
Marfa Mondays #5 Cynthia McAlister with the Buzz on the Bees
Marfa Mondays #4 Avram Dumitrescu, An Artist in Alpine
Marfa Mondays #3 Mary Bones on the Lost Art Colony
Marfa Mondays #2 Charlie Angell in the Big Bend

Plus, there are several new videos about the rock art (I call these "mini-clips"; they are extremely brief but edited footage, meant to illustrate an interview or piece writing. Think of them as a step up from a GIF).

Indian Head, Rock Art in Terlingua, Texas

Click lower right corner for full screen
(APPROX 2 MINUTES)


Meyers Spring, Rock Art Site in Far West Texas

Click lower right corner for full screen
(APPROX 1 MINUTE 54 SECONDS)



Banks of the Pecos River and Lewis Canyon Petrographs (Tinaja)

Click lower right corner for full screen
(APPROX 1 MINUTE 30 SECONDS)

Lewis Canyon Petroglyphs


Click lower right corner for full screen
(APPROX 1 MINUTE 50 SECONDS)



UPCOMING WORKSHOPS & EVENTS




February 10-14, 2016 San Miguel de Allende, Mexico
San Miguel de Allende Writers Conference
C.M. Mayo's "Podcasting for Writers" Workshop
Feb 10 @ 3:30 - 5 PM

C.M. Mayo on Panel on Historical Fiction
with Sandra Gulland, Anne Easter Smith & Mary Novik
"Into the Heart of the Story: Truth & Lies in Historical Fiction"
Feb 14 @ 11 AM - 12:30 PM



For updates, subscribe to the San Miguel Writers Conference mailing list
It looks like I won't be offering anything at the Writer's Center in the fall, but look for a one day workshop, most likely "Literary Travel Writing," in spring 2016. My workshop schedule is here.

More events coming up this fall; for updates please visit my events page.



THE BEST FROM YE OLDE "MADAM MAYO" BLOG

Q & A

Michael K. Schuessler on Pita Amor, Elena Poniatowska, Sor Juana, and Alma Reed
(new transcript for a 2012 podcast interview)
> read now

Rev. Stephen A. Hermann, author of Mediumship Mastery on Francisco I. Madero as Medium
> read now
Roger Greenwald, Poet and Literary Translator of Gunnar Harding
> read now

Michele Orwin, Founding Editor of Bacon Press Books
> read now

Articles and reviews: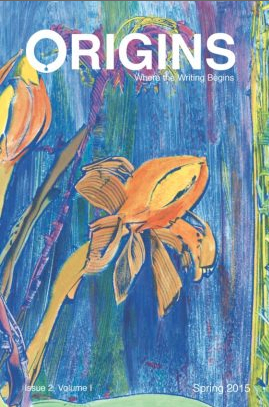 Adiós, Facebook! The 6 Reasons Why I Deactivated My Account

The Second Issue of Origins, edited by Dini Karasik,
Featuring Mexican Writer Rose Mary Salum

Guest-blogger Diana Anhalt's Favorite Books That Inspire Poetry

Mexico: Sunlight & Shadows,
edited by Mikel Miller with Michael Hogan and Linton Robinson
(Cover Painting by Erick Ochoa)
The Pecan: A History of America's Native Nut by James McWilliams
IBPA's "Publishing University" 2015:
My Notes on Four Outstanding Talks on Selling Books, Making Books,
Metadata and Video— and a Felicitous Observation

So Good They Can't Ignore You:
Why Skills Trump Passion in the Quest for Work You Love
by Cal Newport


NEWS ABOUT MY LATEST BOOK,


METAPHYSICAL ODYSSEY INTO THE MEXICAN REVOLUTION:
FRANCISCO I. MADERO AND HIS SECRET BOOK, SPIRITIST MANUAL

I am so happy to announce that my book, strange title and scary-looking eye and all, won the NATIONAL INDIE EXCELLENCE AWARD FOR HISTORY.



New blurbs, reviews and interviews include:
Michele Orwin interviews me at her blog, Bacon and Books

Mary S. Black interviews me at her blog

Bertha Hernández interviews me for her Mexico City radio show Historia en vivo (en español)

Stephen Woodman reviews the book in his blog, The Mexican Labyrinth
"It is an inconvenient truth for Mexican historians that the "Father of the Revolution" Francisco I. Madero, kept in regular contact with spirits of the dead. Yet Madero, who served as president from 1911 until his assassination less than two years later, was a deeply committed spiritist and believed he spoke to departed relatives and possibly even former Mexican leaders. Through his practice of mechanical writing, Madero put pen to paper and let invisible beings guide his hand, shakily transcribing words of wisdom from beyond the grave. With Metaphysical Odyssey into the Mexican Revolution, U.S. novelist and translator C.M. Mayo has written one of the only books to focus on this key aspect of his life...." CONTINUE READING
Tony Burton, Mexico expert, offers a blurb:
"Absolutely fascinating... the well-crafted outcome of a sharp mind and meticulous research, combined with serendipity."

Dr. Rita Louise interviews me for Just Energy Radio


Other podcasts about this book include my talks for UCSD's Center for US-Mexican Studies and PEN San Miguel.



New on the Resources for Researchers page:
Interview with Rev. Stephen A. Hermann, Author of Mediumship Mastery,
on Francisco I. Madero as Medium
For the Spanish edition translated by Agustín Cadena
Odisea metafísica hacia la Revolución Mexicana, Francisco I. Madero y su libro secreto, Manual espírita.

Historia en vivo entrevista, ahora un podcast

Letras Libres reseña por José Mariano Leyva
"tal vez C. M. Mayo se dio cuenta de que era necesario un nuevo estilo para abordar temas como el espiritismo de Francisco I. Madero. Abandonar un poco el tono académico más ortodoxo, y acercarse a la literatura para explicar motivos históricos que proceden de orbes personales. Y el efecto es afortunado: la vida cotidiana emerge viva..."

Literal Publishing:
Podcast
y extracto
"Raices, enredos, encuentros; El libro secreto de Francisco I. Madero"



FICTION!
Very honored to have had a second story published on Leslie Pietrzyk's literary magazine, REDUX: "Close to San Miguel"
Click to read it on-line: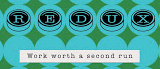 See also my other story on Redux, "Revillagigedo"




NEW ON THE WEBPAGE WWW.CMMAYO.COM


For MEXICOPHILES: Updates on the Recommended Books on Mexico page.




For CREATIVE WRITERS: Updates on the Resources for Writers page and the Recommended Reading on Creative Process page. Plus "Giant Golden Buddha" & 364 More Free 5 Minute Writing Exercises.


All good wishes to you,
C.M. MAYO