NOVEMBER 2015

Dear Subscribers,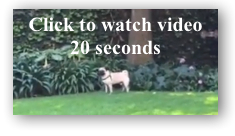 The Marfa Mondays Podcasting Project continues. I welcome you to listen in to these podcasts anytime— there are 20 posted so far and most with transcripts, all free. In this newsletter you will find new podcasts; several interviews (with me and with others); the latest book reviews (Nut Country, Dreamland, and more); and the upcoming workshop for the San Miguel Writers Conference, Mexico's Feria de Libros, and other events. Plus the best from the blog, "Madam Mayo."





"MARFA MONDAYS" PODCASTING PROJECT

These podcasts, exploring Marfa, Texas and the greater region of Far West Texas, are apropos of my book in-progress about Far West Texas. Yes, I am making progress! As for the podcasts, there will be more until there are 24. I invite you to listen in any time on podomatic or iTunes for free here.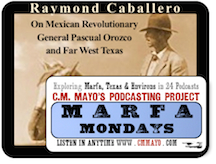 # 20. Raymond Caballero on Mexican Revolutionary General Pascual Orozco and Far West Texas
Main (Notes) + Podomatic + iTunes + Transcript
(APPROX 55 MINUTES)








"There were a lot of Mexicans very upset over the killing of Pascual Orozco... it was a huge controversy... In El Paso, in San Antonio, in Mexico City... they wanted an investigation. So what happened was, 'whoa! We didn't kill some ordinary horse thief, we killed General Pascual Orozco, the biggest military hero of the early part of the Revolution! As a result of the concern that they had, the Sheriff of Culberson County did something very unusual..." ...
— Raymond Caballero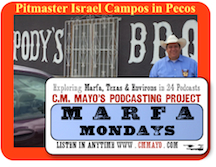 # 19. Pitmaster Israel Campos in Pecos
Main (Notes) + Podomatic +iTunes + Transcript
(APPROX 25 MINUTES)









"Keep it simple. Cook with wood. Can't beat it. No gas. Just wood. Keep it like the old days.".
..— Israel Campos

Listen in to all the other podcasts anytime.


Also apropos of my book in-progress about Far West Texas:
ON THE ROCK ART TRAIL
IN THE LOWER PECOS
A guest blog post for Mary S. Black's Blog





BY C.M. MAYO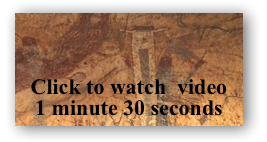 Remote as they are, the Lower Pecos Canyonlands of the US-Mexico border have a strangely magnetic pull. That may sound like a wild assertion, but the evidence comprises over 200 shamanistic rock art sites, many of them thousands of years old, and the fact that dozens of rock art enthusiasts, including myself, find themselves returning again and again.
It was on a meltingly hot August day in 2014 that I made my first foray into the canyonlands for the Rock Art Foundation's visit to Meyers Spring. A speck of an oasis tucked into the vast desert just west of the Pecos, Meyers Spring's limestone overhang is vibrant with petrographs, both ancient, but very faded, and of Plains Indians works including a brave on a galloping horse, an eagle, a sun, and what appears to be a missionary and his church. CONTINUE READING





NEWS ABOUT MY MOST RECENT BOOK
METAPHYSICAL ODYSSEY
INTO THE MEXICAN REVOLUTION:
FRANCISCO I. MADERO AND HIS SECRET BOOK, SPIRITIST MANUAL

Visit this book's website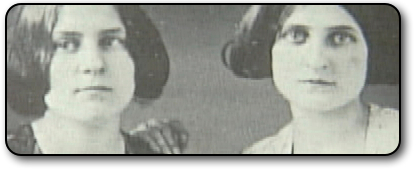 Guest Blog for the New York History Blog:
The Burned-Over District and the Mexican Revolution




Transcript of interview "On Francisco I. Madero's Secret Book" with
Dr Rita Louise for her radio show "Just Energy"




Occult of Personality
Greg Kaminsky interviews C.M. Mayo about Metaphysical Odyssey into the Mexican Revolution: Francisco I. Madero and His Secret Book, Spiritist Manual.



Listen to the podcast here.

"I found C.M. Mayo's book to be very engaging and well-written. This is not your typical history, or even esoteric history book. Mayo is a profoundly creative and insightful artist who is able to bring her own perspective into the frame while enhancing our understanding of her subjects. This is a masterful introduction to a topic that hasn't been explored in this accessible way before, and may never be again. If you enjoy esotericism, history, politics, and the way that they sometimes intersect, I highly recommend you read C.M. Mayo's Metaphysical Odyssey into the Mexican Revolution."
—Greg Kaminsky, host of Occult of Personality


REVIEWS IN MEXICO

"tal vez C. M. Mayo se dio cuenta de que era necesario un nuevo estilo para abordar temas como el espiritismo de Francisco I. Madero. Abandonar un poco el tono académico más ortodoxo, y acercarse a la literatura para explicar motivos históricos que proceden de orbes personales. Y el efecto es afortunado: la vida cotidiana emerge viva..."
LETRAS LIBRES
reseña por José Mariano Leyva
[Leer más]

"cumple con creces su propósito de entender y explicar el contexto en el que Madero escribió su Manual Espírita"
ISTOR REVISTA DE HISTORIA INTERNACIONAL
reseña por Dra Yolia Tortolero Cervantes

The book is now available in English and in Spanish, in paperback and in Kindle.



"CONVERSATIONS WITH OTHER WRITERS"
OCCASIONAL PODCAST SERIES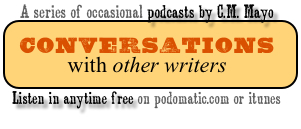 What is an "occasional series"? Translation: I talk to my friends about their work whenever I feel like it and the stars align. I hope you will find these conversations as interesting as I do. No new podcasts to report, but there are two new transcripts:
A Conversation with Edward Swift, author of My Grandfather's Finger

A Conversation with Sara Mansfield Taber, author of Born Under an Assumed Name

Coming soon: A transcript for the interview with novelist Solveig Eggerz, plus an all new crunchier-than-crujiente interview with historian Mary Margaret McAllen about her magnficent narrative history Maximilian and Carlota: Europe's Last Empire in Mexico.

Meanwhile, listen in anytime on podomatic or iTunes. Yes, all my podcasts are free.






UPCOMING WORKSHOPS & EVENTS

BOOK PRESENTATION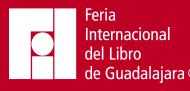 December 2, 2015 Guadalajara, Mexico
Feria de Libros
6:30 PM Salón Antonio Alatorre
Con Rose Mary Salum y Dra Ma Teresa Fernández Aceves
Presentación del libro de C.M. Mayo (traducción de Agustín Cadena)
Odisea metafísica hacia la Revolución Mexicana, Francisco I. Madero y su libro secreto, Manual espírita (Literal Publishing)


WORKSHOP, PANEL, READING


February 10-14, 2016 San Miguel de Allende, Mexico
San Miguel de Allende Writers Conference
Feb 10 @ 3:30 - 5 PM
C.M. Mayo's "Podcasting for Writers" Workshop

Feb 11 @12:45 PM
Tent A. C.M. Mayo reads from Metaphysical Odyssey into the Mexican Revolution

Feb 14 @ 11 AM - 12:30 PM
C.M. Mayo on Panel on Historical Fiction
with Sandra Gulland, Anne Easter Smith & Mary Novik
"Into the Heart of the Story: Truth & Lies in Historical Fiction"


For updates, subscribe to the San Miguel Writers Conference mailing list

WORKSHOP ON LITERARY TRAVEL WRITING


April 16, 2016 Bethesda MD
(Saturday, one day only)
The Writer's Center
10 am - 1 pm
Literary Travel Writing
Take your travel writing to another level: the literary, which is to say, giving the reader the novelistic experience of actually traveling there with you. For both beginning and advanced writers, this workshop covers the techniques from fiction and poetry that you can apply to this specialized form of creative nonfiction for deliciously vivid effects.

Link to register on-line will be available soon.



Questions about this workshop? Email me here.


THE BEST FROM YE OLDE "MADAM MAYO" BLOG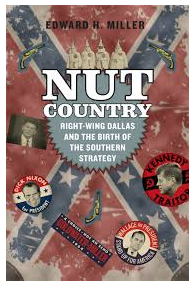 Nut Country: Right-Wing Dallas and the Birth of the Southern Strategy
by Edward H. Miller

Review by C.M. Mayo
Originally published in the Washington Independent Review of Books.

In the early 1950s, for most Texas voters, the party of Abraham Lincoln had about as much appeal as Rhode Island barbecue. In the Civil War, Texas, a slave state, had fought for the Confederacy. Reconstruction brought Republican Party-rule, with its emphasis on establishing and protecting rights for freedmen. The backlash from largely ex-Confederate "redeemers" took only a few years to flush the Republicans from power. Attacking them as "the black man's party," these Democrats called for racial solidarity among whites and for rolling back the rights of African-Americans. For decades to come, Jim Crow Texas, like the rest of the South, was controlled by the so-called "yellow dog Democrats," Democrats who would vote for their party's candidate, even if he were a yellow dog. Yet by the 1960s, the Republican Party, now espousing conservatism, came roaring back in the Lone Star State. What happened? CONTINUE READING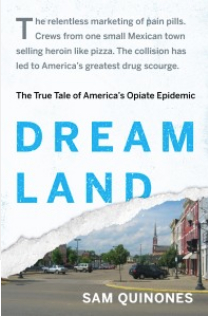 Dreamland: The True Tale of America's Opiate Epidemic
by Sam Quinones
Review by C.M. Mayo originally published in Literal.

This is a grenade of a book. Based on extensive investigative reporting on both sides of the U.S.-Mexico border, Sam Quinones' Dreamland tells the deeply unsettling story of the production, smuggling, and marketing of semi-processed opium base— or "black tar heroin"— originating in and around Xalisco, a farm town in the state of Nayarit, and in tandem, the story of the aggressive marketing of pain pills in the U.S.— in particular, of Purdue Pharma's OxyContin—and the resulting conflagration of addiction and death. CONTINUE READING


Q & A

KAREN BENKE
Poet, Creativity and Fun Maven, Letter Writing Aficionada, and Author of Write Back Soon!
> Read it here.

EDWARD SWIFT
On the Big Thicket, New York, the Orphic Journey, San Miguel de Allende, the Sierra Gorda, and more
> Read the new transcript here.

SONJA D. WILLIAMS
On Writing Word Warrior: Richard Durham, Radio, and Freedom
> Read it here

ARNOLD C. HARBERGER
> Read it here.

Cyberflanerie: Four Vital Videos of Feldenkrais and Anat Baniel Method for Writers
(And Other Desk-Bound Dreamers)
Translating Contemporary Latin American Poets and Writers:
Embracing, Resisting, Escaping the Magnetic Pull of the Capital
Transcript of my talk for the American Literary Translators Association Conference
Panel (same title)
I started translating in Mexico City in the early 1990s. Mexico City is Mexico's capital, but it's not analogous to Washington DC or, say, Ottowa, Canada. The megalopolis, "the endless city," as Carlos Monsivaís calls Mexico City, is like Washington DC, New York, Boston, Chicago, Miami and Los Angeles, all piled into one. In other words, its the political capital, financial capital, publishing capital, cultural capital, and television and movie capital. Oh, and business capital, too. Yes, there are other important cities in Mexico, and they have become more important in many ways, and some of them have some excellent writers and poets. But Mexico City is MEXICO CITY.

Back in the early 1990s, the ruling party, the PRI or Partido Revolucionario Institucional or Institutional Revolutionary Party was in power, about to enter the last decade of its more than 70— yes, 70—years in power. How did it last so long? There are many answers to that question but the main one relevant for our topic at hand is that the PRI attempted to bring everyone, whether farmers, campesinos, industrialists or intellectuals, and that would include poets and writers, under its own big tent. It had its ways. Stick and carrot— or bone, as Mexicans like to say. [CONTINUE READING]


Translating Across the Border
Transcript of my talk for the American Literary Translators Association Conference
Panel, "Translating the Other Side," on translating Mexican literature
Muchísimas gracias, Mark Weiss, and thank you also to my fellow panelists, it is an honor to sit on this dias with you. Thank you all for coming. It is especially apt to be talking about translating Mexican writing here, a jog from the Mexican border, in Tucson—or Tuk-son as the Mexicans pronounce it. [CONTINUE READING]


Writing and (or?) Digital Fun

Big Hike in the Big Bend

NEW ON THE WEBPAGE
WWW.CMMAYO.COM


For MEXICOPHILES: See the Recommended Books on Mexico page.




For CREATIVE WRITERS: Updates on the Resources for Writers page. Plus "Giant Golden Buddha" & 364 More Free 5 Minute Writing Exercises.


All good wishes to you,
C.M. MAYO