JULY 2014

Dear Subscribers,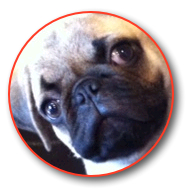 A warm welcome to you all and especially to the many of you who are new to this list.

Well, it's been a year and half since the last newsletter, so there is news indeed. The biggest is that I have a new writing assistant. Sadly, my pug dog Picadou, who had reached the distinguished age of 14—close to 100 in human years—crossed over Rainbow Bridge last April. Her little brother, just arrived, is Uli Quetzalpugtl, pictured left.



= NEW PUBLICATIONS =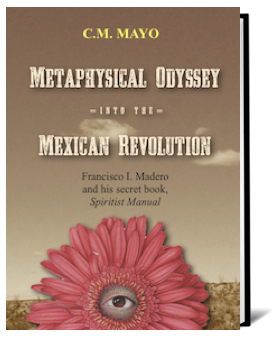 Metaphysical Odyssey into the Mexican Revolution: Francisco I. Madero and His Secret Book, Spiritist Manual now available in both Kindle and paperback editions.
In a blend of personal essay, biography, and a rendition of deeply researched metaphysical and Mexican history that reads like a novel, award-winning writer and noted literary translator C.M. Mayo provides a rich introduction and the first English translation of Spiritist Manual, the secret book by Francisco I. Madero, leader of Mexico's 1910 Revolution and President of Mexico, 1911-1913.

>Interview in University of Chicago Division of Social Sciences newsletter

>Read more on the book's website

It's also available in Spanish, a fine translation by Mexican novelist and poet, Agustín Cadena, as Odisea metafísica hacia la Revolución Mexicana: Francisco Madero y su libro secreto, Manual espírita. The paperback will be available soon, as will a collector's edition; stay tuned. Get the Kindle here.

More events in Mexico City and elsewhere for the new book will be announced this fall.



= UPCOMING EVENTS & WORKSHOPS =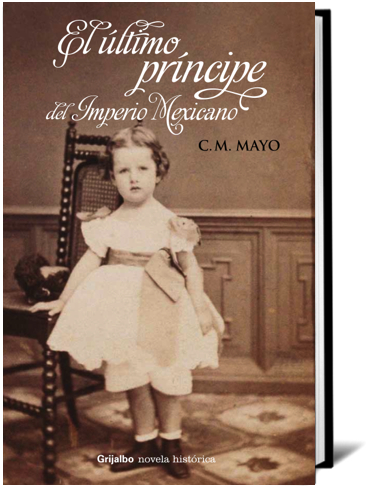 July 15, 2014 @ 5 pm
Mexico City's National Palace
FREE & OPEN TO THE PUBLIC
The Last Prince of the Mexican Empire, translated by Agustín Cadena as El último principe del Imperio Mexicano, will be featured as part of a conference on Maximilian in fiction. We'll be talking en español about the story of the prince, the research, and the translation. For more about that conference, click here for the full line up.

October 11, 2014 @10 am - 1 pm
The Writer's Center, Bethesda MD
Literary Travel Writing One Day Workshop


Take your travel writing to another level: the literary, which is to say, giving the reader the novelistic experience of actually traveling there with you. For both beginning and advanced writers, this workshop covers the techniques from fiction and poetry that you can apply to this specialized form of creative nonfiction for deliciously vivid effects. More information
November 29, 2014 (Time to be announced)
La Sombra del Sabino, Tepoztlán, Morelos, México
Book Presentation with Q & A and signing (in Spanish but Q & A in both English and Spanish)
Odisea metafísica hacia la Revolución Mexicana: Francisco I. Madero y su libro secreto, Manual espírita
The English original edition, Metaphysical Odyssey into the Mexican Revolution: Francisco I. Madero and His Secret Book, Spiritist Manual, will also be available for purchase and autographs at this event.
La Sombra del Sabino
Avenida Revolución 45. Tel. (01 739) 395 0369 informes@lasombradelsabino.com.mx


More events to be announced for this fall very soon.
> Events


.
= PODCASTS =
Yes, the Far West Texas book, which of course my horse includes the US-Mexico Border, continues with the MARFA MONDAYS PODCASTING PROJECT. Recent podcasts are:




13: Looking at Mexico In New Ways
An interview with John Tutino, Professor of the History of Mexico and the Americas in the History Department and the School of Foreign Service at Georgetown University in Washington DC. Professor Tutino is the author of Making a New World: Founding Capitalism in the Bajío and Spanish North America (Duke University Press) and editor of the anthology Mexico and Mexicans in the Making of the United States (University of Texas Press). P.S. Read my double review in Literal Magazine.



12: Dallas Baxter: This Precious Place
Dallas Baxter, founding editor of Cenizo Journal, on the flowering of the arts in the desert, the aftermath of 9/11, living in the Big Bend, and the story of a dynamic and successful print publication in this digital age.



11: Cowboy Songs by Cowboys
Recorded at the 27th annual Cowboy Poetry Gathering at Sul Ross State University in Alpine, Texas: cowboy songs by cowboys Michael Stevens, Craig Carter, and Doug Figgs— and an interview with Michael Stevens.



10: A Visit to Swan House
C.M. Mayo reading live for PEN San Miguel in the Teatro Angela Peralta, San Miguel de Allende, Mexico, on January

29, 2013. After a brief consideration of literary travel writing in the digital age, Mayo reads from her article in the winter 2013 issue of Cenizo Journal, "A Visit to Swan House," about the Presidio, Texas teaching house of adobe visionary Simone Swan, which features Nubian vaults, contructed by means of an ancient technique rescued by Swan's mentor, the renowned Egyptian architect Hassan Fathy.
>Read the complete article, orginally published in Cenizo Journal, here.
>Visit the Adobe Alliance webpage for more information about Swan House and photographs.





Follow on Twitter @marfamondays


Top 10 Books Read 2013 >read

30 Deadly-Effective Ways to Free Up Bits, Drips & Gimungously Vast Swaths of Time for Writing >read

Después de la muerte by Léon Denis or, a Super Brief Introduction to the Opportunity Cost of Rare Book Collecting >read

Eight Conclusions After Eight Years of Blogging >read
My talk for the panel on writers' blogs for the Associated Writing Programs Conference, Seattle, 2014

My Uncool "Cool Tool" Grandma's Recipe Box Solution to Internet Password Management >read
This may hold the record for most outraged comments. But hey, it works for me.
Why I am a Mega-Fan of the Filofax >read

Seven Reasons Why Kindles Will Be Big in Mexico >read

So How is the Book Doing? (And How Many Have You Sold? And How Big Was Your Print Run?) >read

A Window to the Invisible World: Master Amajur and the Smoking Signatures >read

Memorias de Rafael L. Hernández by Fernando Serrano Migallón >read
Arnold Krumm-Heller (1876-1949) and Francisco I. Madero (1873/1913): Some Notes on Sources >read




And yes, I am still posting occasionally over at my other blog, Maximilian-Carlota, for sharing research on the Second Empire / French Intervention. Just a few of the more interesting items:

Luis Reed Torres' Biographies of Two Mexican Monarchist Generals, Joaquín Miramón and Manuel Ramírez de Arellano > read

Biografía (Biography) edited by Mílada Bazant > read

M.M. McAllen's Maximilian and Carlota: Europe's Last Empire in Mexico > read

The Memoir of Maximilian's Gardner, Wilhelm Knechtel > read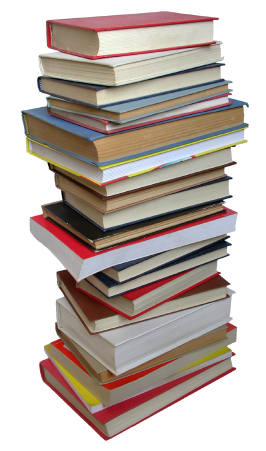 .
= BOOK REVIEWS =

Making a New World: Founding Capitalism in the Bajío and Spanish North America
By John Tutino
and
Mexico and the Mexicans in the Making of the United States
Edited by John Tutino
Literal Magazine 34, 2013
Our Lost Border: Essays on Life Amid the Narco-Violence
By Sarah Cortez and Sergio Troncoso
Literal Magazine 33, 2013
Desert America: Boom and Bust in the New Old West
by Rubén Martínez
Washington Independent Review of Books, February 18, 2013
Comentarios para la presentación del libro Los viajes de Maximiliano en México (1864-1867)
por Konrad Ratz y Amparo Gómez Tepexicuapan,
Castillo de Chapultepec, 12 de febrero, 2013



MY DAD'S BOOK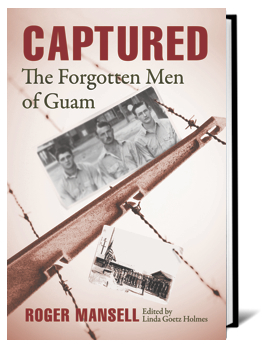 Still getting many positive reviews! Visit www.rogermansell.com

>Kindle and hardcover from amazon.com
>Order direct from Naval Institute Press

Roger Mansell, the pre-eminent historian of Pacific POWs, devoted the last years of his life to unearthing and telling this forgotten story, and after his death, the work was completed by his colleague, the esteemed POW author Linda Goetz Holmes. Chronicling a lost chapter of World War II, Captured promises to be an authoritative, fastidiously researched and compelling read.
—Laura Hillenbrand, author of Unbroken

After so many years, it's surprising that World War II still has some untold stories. In fact, a couple of the "forgotten men of Guam" have published memoirs, but those are long out of print. In Captured, Roger Mansell brings their stories together with useful background and the results of what was apparently a great deal of personal research. The result is an interesting account of some of the first prisoners of the Pacific war and their tribulations...a valuable collection of reminiscences... Captured conveys the atmosphere of the camps and the men's perceptions clearly enough to make it very enjoyable and rewarding reading.
—The Asian Review of Books
A labor of love for Roger Mansell that extended ten years, edited after his death by historian Linda Goetz (known for her writings on the POW experience in the Pacific War), this book stands as a harrowing tale of the POW experience of the men of Guam. The genesis of this stark tale is the author's interviews of POWs and the realization that no book-length treatment had ever dealt with the men of Guam, whose experience had been largely forgotten between the events of Pearl Harbor and Wake Island and in the later horrors of the Bataan Death March. This book fills that void and serves as a lasting tribute to the memory of the brave men in harm's way who paid the price for our nation's unpreparedness and survived a cruel and barbaric captivity
—Nathan Albright in Naval History Book Reviews
I could not stop reading it. His attention to detail was amazing. Reading the book was like sitting down with a great story-teller that transported me to that time and those places. My only complaint is that it wasn't another 500 pages! It is absolutely the best book I've read about the Far Eastern POW experience. . . I will treasure this book forever.
—Jim Hansford
.
= VISIT WWW.CMMAYO.COM =

For more books, ebooks, podcasts, CDs, and the resource-rich workshop page with Giant Golden Buddha & 364 More Free 5 Minute Writing Exercises.


Looking for a book, ebook or CD? Check out my updated on-line shop: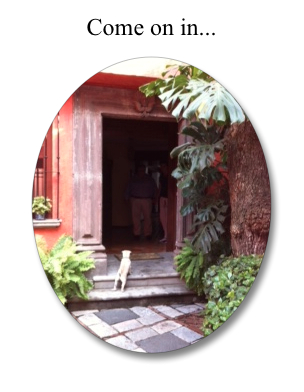 Thank you for your interest in my work and all good wishes to you,
C.M. MAYO
Through narrative we become more human. Truth is beauty. Exploration is infinite.
Please feel free to forward this to friends.