You are receiving this because you signed up for my mailing list. Intended to be both fun and useful, these newsletters go out only about 4 to 6 times a year (quarterly-ish). If, for any reason you no longer wish to receive these, please do not report this as spam, but simply opt out at the bottom of this page (it's automatic). [This text refers to the mailchimp.com subscribers receive via e-mail]
Dear Subscribers,

A warm welcome to all and especially to those of you who are new to this list. September's newsletter announces a new literary travel writing workshop, a couple of new link-rich on-line articles for writers, the best from the blog (ye olde Madam Mayo), and podcasts galore-- Marfa, Marfa & more about Marfa, plus Q & A with some other, very innovative literary podcasters.


Literary Travel Writing Workshop
September 8, 2012
The Writer's Center
4508 Walsh St (just off Wisconsin Ave)
Bethesda MD (Near Washington DC)
1 - 5 pm (one day only)
Take your travel writing to another level: the literary, which is to say, giving the reader the novelistic experience of actually traveling there with you. For both beginning and advanced writers, this workshop covers the techniques from fiction and poetry that you can apply to this specialized form of creative nonfiction for deliciously vivid effects. (Read more about this workshop on my blog.)

>>Register on-line + more information here.
>>If the website shopping cart isn't working, no worries, call the Writer's Center at 301-654-8664

There may be a podcasting for writers workshop later this fall in Mexico City.
To check out the workshop schedule, click here.


Articles for Writers
The Manuscript is Ready— (Or Is It?)— What's Next?
An expanded handout rich with links from my presentation at the "Publish Now!" seminar at the Writer's Center, June 24, 2012
Getting Started with Websites and Blogs
In answer to the many frequently asked questions.
>>Check out the resources for writers page on my workshop page for many more articles and links.


Best from the Blog
Someone recently decribed Madam Mayo as a mashup. Quite right.
Rather Good, These Peculiar Little Videos
Cyberflanerie (Is Not Dead)
The Marfa, Texas Chamber of Commerce: Why I Joined
The Story Is True: The Art and Meaning of Telling Stories by Bruce Jackson
Sergio Troncoso's From the Wicked Patch of Dust and Cross Borders: Essays
Plus several interviews with creative podcasters, read on, more about those below in the section on podcasts.

>>Subscribe to the Madam Mayo blog here
>>Get the tweets @madammayo

Podcasts
I've been all about podcasting this summer-- and there are such a multitude of fabulous podcasts out there (hunt & ye shall find) that, well, I wanna get out the pompoms and do some cheering. I use my iPad to listen to podcasts while working in the kitchen, driving, an, when doing any relatively mindless task (sometimes, I admit... that even includes email). Some favorite podcasters, with whom I recently posted some Q & A about their podcasting, include:
Margaret Dulaney "Listen Well"

Tod Goldman "Literary Disco"
Chris Gondek "Heron & Crane"
Rice Freeman-Zachery "The Voodoo Lounge"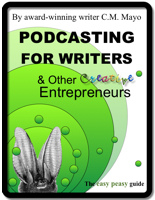 Some of these interviews will appear as sidebars in my forthcoming iBookstore edition interactive ebook, Podcasting for Writers & Other Creative Entrepreneurs. That was forthcoming this summer... oh well! Look for it later this fall.

>>I'll announce it along with several other new iBookstore interactive multimedia ebook editions from Dancing Chiva in the next newsletter.
Meanwhile, I've also been working on the podcasts apropos of my book-in-progress-- as yet untitled-- on the greater Big Bend region of far West Texas. Since so few people have heard of Fort Davis, Alpine, Marathon, Valentine, Terlingua, Lajitas, or Presidio, I decided to call the podcast series "Marfa Mondays."


#7 We Have Seen the Lights
July 16, 2012: C.M. Mayo recounts her own experiences with the eerie and as yet unexplained phenomenon of the Marfa Lights, discusses some of the literature and recent research, and interviews others.

#6 Marfa's Moonlight Gemstones
June 18, 2012: C.M. Mayo interviews Paul Graybeal, owner of Marfa's magnet for rock hounds.

#5 Cynthia McAlister: The Buzz on the Bees
May 21, 2012: C.M. Mayo interviews an expert on the curious native bees and vital pollinators of the Northern Chiahuahua Desert.
(So where's the August "Marfa Monday" podcast? Oops, wacky summer... I'm a little behind. I'll be back in Marfa later this fall, digital recorder in hand. Stay tuned.)
Previous "Marfa Mondays" podcasts include:
Avram Dumitrescu: An Artist in Alpine;
Mary Bones on the Lost Art Colony;
Charles Angell in the Big Bend;
C.M. Mayo's Welcome & Introduction.
They are all free on-line; listen in anytime
from the Marfa Mondays website,
on



or
subscribe for free on



(which gets the RSS feed of up to the previous 15 podcasts from podomatic)
So you've heard of Marfa? Now that Vanity Fair's June issue covers the place, I feel rather as if I'm in the caboose of the hipster fashion train now... (Ayyy, yeah, I did see that Beoncé felt inspired to do some jumping jacks in front of Prada Marfa.) Anyway, if you're still wondering where the buffalo Marfa is, check out my video.
An hour's trek south of Marfa, down along the Rio Grande, the landscape changes. Recently, I visited La Junta, where the Rio Grande meets the Rio Conchos, and took some brief videos so you can get a sense of how gorgeous and dreamscape-like this country is:
Rio Grande Near Presidio (Goats Appear)

A Few Things Seen from Sproul Ranch
(Near Fort Davis)

Rio Grande Crossing
at Lajitas
Big Bend State Park: Some Geological Formations

Big Bend State Park: Cave and View of Mexico

Closed Canyon,
Big Bend State Park

Hoodoos in the Big Bend State Park

Marfa Lights Viewing Station Near Twilight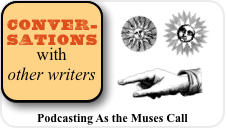 For the Conversations with Other Writers series, an interviews with El Paso native novelist and essayist Sergio Troncoso and WWII POW historian Linda Goetz Holmes, my dad's editor, are in progress. (Meanwhile, read my review of Tronoco's essays, Crossing Borders, and novel, From This Wicked Patch of Dust, for Literal magazine).

Previous Conversations with Other Writers include:
Michael K., Schuessler, biographer of Elena Poniatowska and Pita Amor
Edward Swift, novelist and memorist, author of My Grandfather's Finger; Sara Mansfield Taber,travel writer and memorist, author of Born Under an Assumed Name; and Solveig Eggerz, fairytale expert and author of Seal Woman, a novel of post WWII Iceland inspired by a true story.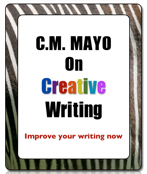 P.S. If you haven't already, click on the cover to download "C.M. Mayo on Creative Writing: The Best from the Blog," a 50+ page cornucopia of the tips from my writing workshops. It is a fully formatted PDF which you can read on any computer and also open in iBooks. [This download is for subscribers only. Subscribers receive the passwords for free e-books in the next newsletter e-mail. To sign up for the newsletter, which is free, click here. If you want your copy of this book immediately, before my next newsletter goes out, sign up for the Dancing Chiva newsletter here.]


Thank you for your interest in my work and good wishes to you!

Kind regards,
C.M. Mayo
Author of The Last Prince of the Mexican Empire, a Library Journal Best Book 2009; Miraculous Air: Journey of a Thousand Miles through Baja California, the Other Mexico; and Sky Over El Nido, winner of the Flannery O'Connor Award for Short Fiction. Editor, Mexico: A Traveler's Literary Companion. www.cmmayo.com
Through narrative we become more human. Truth is beauty. Exploration is infinite.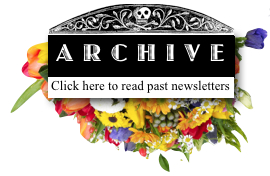 Where to buy C.M. Mayo's books? It's easy peasy.